Start the new year with a clear mind, a light body and more energy! After all the holiday feasting, and all the hectic holiday preparations, you need to recharge and let go of last year's stress. These simple detox tips and treatments will help you flush out toxins – both physical and emotional – so you face the year with the strongest, most positive version of yourself.
Try Sound Therapy
Sound therapy has become a big spa trend in the United States, but it's not a new concept. The ancient Greeks believed sound vibrations could help digestion, sleep and mental disturbances – the philosopher Aristotle even said flute music could purify the soul! The Tibetan monks also used singing bowls to help their meditation. There is also some neuroscience behind it: specific sound frequencies and rhythms can stimulate particular brainwaves and promote physical healing.
"Everything in the universe has a vibrational frequency," explains Mark Menolascino, M.D., an integrative and functional medicine practitioner. "We're hard-wired to have sound be part of us. In the brain, all our neurons fire at different frequencies based on the data they receive from things around us. Those vibrations interact with every cell in your body."

– Mark Menolascino, M.D.
Nila® Wellness
You can experience sound therapy in Singapore at Nila® Wellness. This unique studio is known for yoga classes with aromatherapy. But aside from their workouts (which include Hatha, Flow, Power and Zen Yoga) they also offer the Nila® Aroma Soundscape, which is a completely immersive experience! Not forgetting their popular Aroma Restore healing classes which are Restorative Yoga, as well as Aroma Yoga. You're enveloped in the sounds of harmonious healing instruments. These include crystal bowls, lyres, harps, or gongs, which are set at the best frequency for greatest physical and mental renewal.
Try the Nila® Aroma Crystal Bowls + Therapy Harp Sound Bath now! They have a special promo for first-timers, with $20 for a single pass or a $38 Buddy Pass if you come with a friend. They also have package price for as low as $14 per class.
Check out Nila® Wellness on ClassPass. You can also drop by their studio at 4A Haji Lane, Singapore 189187 or visit their website for more information on their class schedules and available slots. For inquiries, email enquiry@nilasingapore.com
Book an appointment here and experience the sound therapy of a lifetime!
House of Ascend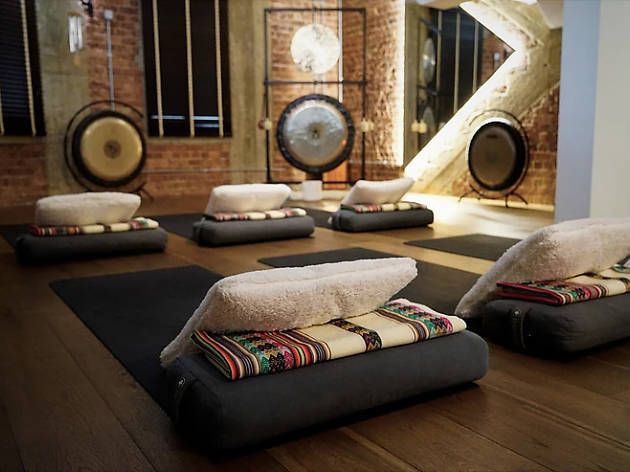 Bring your zen on with the House of Ascend. Revolving their yoga practices and rituals around gong meditation, allow yourself to be guided by the sound of the gong as you drift away in a state of peace. On top of that, the
If you need to relieve some tension, check out the studio's Gong Yin yoga practice. With the help of the vibrations of the gong, this yoga practice aims to help your body release physical blockages in your muscles and joints while clearing your mind. Plus, this practice is even suitable for those who have struggled with chronic pains and injuries!
Drop by the House of Ascend at 79 Chay Yan St, Level 1-18, Singapore 160079 or visit their website to book an appointment.
Flush out the Effects of Holiday Feasts with Lymphatic Drainage Massage
Do you feel bloated? Do your face or face look puffy? Do you have indigestion or constipation, or frequently get colds? A lymphatic drainage massage can help! These detox treatments clear out lymph nodes – the body's Toxin police stationed in different parts of our body that trap and filter out waste products like excess salt, preservatives and chemicals.
Read more on our article on Lympathic Drainage Massages and the Singapore spas that offer them. You can pick from hot Onsen baths, salt scrubs, gua sha and more! Tip: a lympathic drainage massage is especially helpful after Chinese New Year binges! Have you seen the salt and calories in some of the CNY goodies? This detox treatment can help you flush them out, fast!
LifeSpa
Tucked away in the heart of Singapore's central, LifeSpa invites you to a tranquil sanctuary to escape from the hustle and bustle of the city. Harnessing the power of ancient healing techniques from the East, the spa offers a comprehensive range of treatments that is guaranteed to recharge and rejuvenate your spirits. On top of that, the spa prides itself in using specially selected all-natural ingredients to bring out the best healing experience possible.
Among the slew of beauty treatments this spa offers, the spa's Manual Lymphatic Drainage Massage is one of its most sought-after signature massage treatments. It features 45 minutes of Rhythmic massage to enhance blood circulation and stimulate lymph flow. Then, the treatment is finished by placing heat blanket over your body for 15 minutes to clear the toxins and excess fluid in your body. Apart from its detox effects, this massage treatment has been known for its health benefits, which include treating throbbing migraines and sinus problems. So you can expect to feel refreshed from the inside out right after this massage!
Price: $200 for Manual Lymphatic Drainage Massage
Address: 218 Orchard Road, Level 11, Orchard Gateway @ Emerald, Singapore 238851
Opening Hours: Mon-Fri: 10am to 9.30pm, Sat-Sun: 10am to 7pm
Contact: 6737 6766
Find out more about LifeSpa here.
Healing Touch Spa
With multiple outlets located across the island, Healing Touch Spa is no stranger to spa aficionados in Singapore. As its name suggests, this multi award-winning spa offers to take your healing experience to the next level with its soothing massage treatments. With the spa's experienced masseurs, this is one place where you can be sure to be in good hands.
Healing Touch's Manual Lymphatic Drainage Massage is one treatment you can check out for a much-needed detox sesh. Using gentle pumping techniques and specialised massage movements, this treatment works to reduce excess water retention and even helps with softening the skin! As compared to the typical tension relief massages, the Manual Lymphatic Drainage massage is one that is extra gentle. With this treatment, be prepared to enter an oasis of calm.
Price: $55 for Manual Lymphatic Drainage Massage (First trial U.P $80)
Address: 9 Bras Basah Rd, #03-03 Hotel Rendezvous Gallery, Singapore 189559
Opening Hours: Mon-Sun: 10am to 11.30pm
Contact: 6715 1515
Find out more about Healing Touch here.
Infuse Your Water
You don't need to spend a lot on detox supplements! Water is the easiest, most natural and most effective way of flushing out toxins. But if you keep forgetting to drink enough water, or get bored of taking it plain, get a water infuser. You get the subtle taste of fruits without all the sugar and carbohydrates of sodas and juices. Try the Shoke Water Infuser ($24, Amazon Singapore). It's BPA-free, leakproof, and fits into bags and your car's bottle holder.
Take Apple Cider Vinegar
You may have heard about the DIY apple cider vinegar cleanses, which supposedly help with weight loss and can lower sugar and cholesterol levels. But the most extreme ones involve adding it to shakes – which frankly, taste terrible and can cause stomach aches. The more practical way to try the apple cider vinegar cleanse is to drink a teaspoon every morning before taking any other food or fluids. You can take it pure, or mix it with a bit of honey and hot water.
Take Green Smoothies
Green smoothies are actually a lot healthier than fruit smoothies (which can contain surprising amounts of sugar). They're also an easy way to take large amounts of vegetables in one sitting. A person can eat only so many bowls of salad!
You can take a glass of green smoothies every day, or go on a 3-day green smoothie cleanse. Since you're taking the vegetables raw and pureeing it, you "free" your liver and digestive system so it can flush out the other toxins in your body. Plus, you're skipping out on oil and salt that you'd otherwise add to cooked food.
If you want to make green smoothies a regular part of your routine, invest in a high-powered juicer that can handle more fibrous vegetables like kale or ginger. For many juicing advocates, Matsone is one of the best juicers you can find – and it has multiple functions like grinding meat or crushing ice that proves useful for everyday cooking.
Download a Sleep App
Sleep is your body's natural detox therapy. During sleep, your skin cell renewal speeds up, and your body releases hormones that can help heal the body. Unfortunately, it can be hard to get quality sleep, especially if you're stressed! Let these 7 best sleep apps bring you to a state of calm. You can release all the thoughts and worries that are keeping you up, and help you fall into the deep healing sleep that your body needs.
Start Doing Morning Pages
Writer and artist Julia Cameron recommends the habit of doing Morning Pages. These are basically timed writing exercises where you write anything and everything on your mind – no edits, no filters, just dump all your thoughts and emotions on the page.
She believes that most of us carry a tiring internal mental dialogue where we think negative thoughts and fight them – it's like your mind is constantly wrestling with itself. That expends a lot of energy and is one of the biggest reasons we feel drained. When you dump them on the page, you acknowledge and let your thoughts go, without worrying about grammar or the pressure to always be positive and in control. It's a daily emotional and mental detox that will help you feel better, every day!
Sweat It Out
This year, commit to doing 20 to 30 minutes of exercise a day. It doesn't have to be complicated or expensive: dance to fun music, go running, walk to your destination instead of taking a cab or bus, play a sport, or do light housework. Aside from all the health benefits of exercise, you flood your body with endorphins that lift your mood.
Life coach Samantha Rowles also says that exercise lets you focus on something outside of work. Your mind rests as your body moves. "For many people, exercise is a way to stay fit or to lose weight. But it's also a great form of stress relief. Don't associate it with the pressure to achieve a particular body, and turn it into a way of taking care of yourself."