Skincare
25 Best Skincare Products For Sensitive Skin That Are *Extremely* Soothing!
No more flare-ups
By: Beauty Insider Journalist / July 29, 2022
Honestly, shopping for skincare products that are sensitive skin-friendly can be quite tricky. Those who are blessed with normal, dry, or oily skin types can rely on trial and error to find the best products that suit them the most. However, such a luxury is not permissible for people with sensitive skin. All it takes is just an error and you will be left with irritated skin. If you are one of those few, you need to pay meticulous attention and pick out skincare products that are specially formulated for sensitive skin.
Rather than risking it and trying all the recommended products out there, it is better to do your research and go for skincare products for sensitive skin. It will not only minimise the risk of reaction but it is packed with soothing and nourishing properties. Well, we know there's no one-size-fits-all, so despite using skincare products for sensitive skin, you still need to take extra caution when adding new products to your routine. If your skin becomes inflamed or stings after using a formula, especially one that contains fragrance, alcohol, or harsh exfoliants, then stop using it immediately.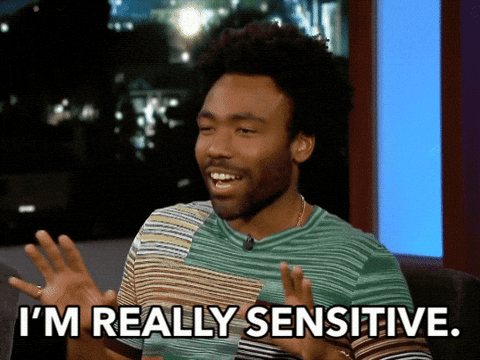 We know that finding the right products for your skin is somewhat impossible. But hold on, don't just give up hope yet. Whether you're looking for a non-drying face wash, a lightweight moisturiser, or even a gentle night cream, we have handpicked the best skincare products for sensitive skin. These products are free of active ingredients that'll lead to a flare-up and instead help you reach your personal skin nirvana.
The Best Skincare Products For Sensitive Skin
Eczema & Psoriasis Premium Relief Balm by Exzma Skincare
Formulated with pure natural ingredients, this relief balm by Exzma Skincare offers the best natural remedy for immediate relief of Eczema and Psoriasis symptoms. It creates a protective layer over your skin and makes your skin less sensitive to the external environment that may trigger a flare-up. Apart from that, it can also provide relief from itching, and to rid of the dry, rough, itchy inflamed skin. Suitable for even babies, this relief balm has the healing ability to promote the formation of new tissues and accelerates the growth of healthy skin.
Why we love it:
Free of steroids
Fortifies the skin's moisture barrier
Gentle enough for babies and children
Accelerates cell turnover
Price: $98.00
Add to cart
Restoration Essence Eczema Fighter
Do you wake up in dismay to find skin flakes and blood stains on the bed after scratching your skin raw throughout the night? Never fear, because RESS' Eczema Fighter is here! Besides helping to stop itching and scratching naturally, this emollient cream contains skin-calming ingredients like jojoba wax, avocado oil, glycerin, Vitamin B6, chamomile and peppermint to soothe inflammation. Additionally, it's also free of harsh irritants like artificial chemicals, fillers, dyes, parabens and fragrances.
Why we love it:
Free of steroids
Free of parabens, artificial chemicals and fragrances
Treats eczema, rosacea and seborrheic dermatitis
Easy-to-use pump dispenser
Price: $33.90 (Original price $48.55)
Add to cart
BELVEA Moisturising Skin Cream Formula
BELVEA Moisturising Skin Cream Formula delivers intense moisture to the skin with only six active ingredients. Enriched with allantoin and aloe barbadensis leaf extract, this hypoallergenic cream leaves your skin feeling smooth and soft. Plus, it expedites the skin's healing process. BELVEA Moisturising Skin Cream Formula helps to retain the moisture on the skin, making it a perfect addition to anyone that experiences dry and sensitive skin conditions. Besides, with a price tag of $20 and you can apply it all over your face and body, this cream is definitely a steal!
Why we love it:
Fragrance, parabens and propylene glycol-free
Hypoallergenic
Delivers rich moisture to the skin
Affordable
Price: $20.00
Where to buy: Qoo10
OxygenCeuticals Couperose Fluid
OxygenCeuticals Couperose Fluid has been awarded the Beauty & Wellness Awards 2022 for Best Sensitive Care and Readers' Choice Award. This ultra-soothing serum features a concoction of aloe vera extract, hydrolized collagen, sodium hyaluronate and rosa centifolia flower water. Aside from strengthening the damaged skin barriers, these ingredients also work together to instantly relieve inflamed skin and minimise the signs of couperose. It has a watery texture that penetrates deeply into the skin, delivering a burst of hydration without any greasy residue.
Why we love it:
Retains the moisture level
Delivers soothing and calming properties
Fortifies the skin protective barrier
Price: $140.00
Where to buy: OxygenCeuticals official website, Shopee, Lazada and Cheongdam 청담 Skin Management outlets (International Plaza, Jurong Point, SingPost Centre and Square 2)
Selenus Artemisia Calming Us Repair Balm
Another 2022 Beauty Awards winner, Selenus Artemisia Calming Us Repair Balm is a rich and hydrating moisturising cream with a unique texture that is a cross between a waxy balm and a rich cream. The product is very easy to apply and layer on, this moisturiser forms a thin protective layer to nourish and hydrate your skin. Ideal for dry, sensitive and acne-prone skin, due to its formulation with Ganghwa Artemisia, or Mugwort, and other rich moisturising ingredients such as Trehalose, Shea, Cocoa and Mango Seed Butter.
Why we love it:
Lightweight, Fast absorbing
For Dry & Sensitive Skin
Moisturise skin and soothe irritation treats Acne and blemishes
Price: $ 46.00
Where to buy: Asian Beauty X
Ice's Secret Sensitive & Redness Oligopeptide Complex Serum
Ice's Secret Sensitive & Redness Oligopeptide Complex Serum is suitable for skin that is experiencing redness, spider veins, sensitivity, rashes and broken blood vessels. It has a formula that helps reinforce the natural barrier system of the skin. Thus, making it much more resistant to issues like sensitivity-related dry patches, veins, redness, sensitivity and thinness. Furthermore, this serum helps improve cell renewal, while also soothing and calming flare-ups. Apply before bedtime to soothe heat rashes and stop itchings. This serum is also the Beauty & Wellness Awards Winner for Best Skincare, Best Sensitive Care and Editors' Choice Award 2022.
Customer review:
"I use this whenever I see a flare coming up and pair it together with sensitive advanced serum or brighten & repair serum. Must have in my stash!"
Carrone Yu, Ice's Secret
Why we love it:
Improves skin texture
Reduces sensitivity
Promotes collagen production
Price: $98.00Where to buy: Ice's Secret
BELVEA Gentle Skin Wash Formula
If you have been searching for the best cleanser, look no further because BELVEA Gentle Skin Wash Formula is the one for you. This soap-free cleanser does not contain any harsh chemicals like Sodium Lauryl Sulphate (SLS), fragrance, and parabens which are known to irritate sensitive skin. Furthermore, this multipurpose cleanser can be used as a shampoo, body, and facial wash, making it a go-to product for people with dry and sensitive skin. BELVEA Gentle Skin Wash Formula features a formula that gently cleanses and moisturizes the skin without stripping the skin of its natural oils.
Why we love it:
Suitable for all skin types
Affordable
Soap-free cleanser
Contains plant-based moisturiser
Price: $20.00
Where to buy: Shopee
Rock & Herb Enzyme Rescue
Rock & Herb Enzyme Rescue is the go-to product for those with sensitive skin. This highly sought after moisturizer is packed with nourishing and hydrating ingredients that will instantly soothe the skin. Infused with tropical jungle fruit extracts like pineapple and papaya, these fruits have high levels of fruit acids, enzymes, vitamin A, C, and E. These powerful blends of ingredients gently break down damaged cells and to nourish and promote new, supple skin growth. It has been used to prevent scarring in burn wounds.
Click here to read more about the review on Rock & Herb Enzyme Rescue.
Enhanced with jojoba oil and hyaluronic acid, it delivers intense hydration leaving your skin looking supple throughout the day. After cleansing, simply apply the Rock & Herb Enzyme Rescue to your skin twice per day.
Why we love it:
Nourish and repair the skin
Helps to minimize the appearance of acne scars and marks
Hydrates the skin
Price: $92.00
Where to buy: Rock & Herb online store. Also available on Shopee SG, Lazada SG and Amazon SG.
Acuralle The Essentials Kit
You need to get your hands on the Acuralle The Essentials Kit now! It has the benefit to help with different situations in your daily life, whether it's acne, cracked heels or even eczema. with this kit, you will get the Aloe Vera Gel and your choice of Argan Oil within. The Aloe Vera Gel alone has the benefit to help condition the hair, treat minor burns, insect bites and stretch marks. With argan oil, it can help relieve eczema, moisturise the skin and strengthen your nails. If you mix the two together, it can also provide a more enhanced moisturising effect.
Why we love it:
Suitable for all types of skin
Soothes rashes
Relieves sunburn
Gentle on babies
Anti-ageing effects
Relieves dry and itchy scalps
Price: $38.00 – $60.00
Add to cart Or get it on Acuralle!
Restoration Essence Eczema Warrior
We've got another winner from RESS and this one is their ultimate Eczema Warrior with double the dosage of healing ingredients to relieve ultra-dry and itchy skin. The texture feels extra rich and luxurious on the skin and it helps to lock in moisture for up to 24 hours! In addition to nourishing olive oil, glycerin, sesame oil and shea butter, it also contains soothing chamomile, peppermint and calamine to heal and hydrate the skin. Because it's so gentle on the skin and free of artificial chemicals and steroids, it is safe to use on both children and pregnant women.
Why we love it:
Safe for pregnant women and children
Great for very dry and scaly skin
Treats eczema, rosacea, psoriasis, burns and stretch marks
Free of steroids and artificial chemicals
Price: $38.00
Where to buy: Restoration Essence online store
TWO L(I)PS ICE Calming Rescue Cream
The TWO L(I)PS ICE is a product that is carefully formulated to soothe your inflamed and irritated skin from factors like sunburn, insect bites, minor cuts and abrasions. This lightweight cream is infused with ingredients like Sea Algae to help keep your skin moisturised and firm by maintaining collagen and elastin levels, Menthol to help provide your irritated skin with a cooling sensation and Liquorice Root Extract to help repair minor skin damages and also to soothe inflammation of the skin. What's even more, is that this product also aids in strengthening the barrier of your skin along with encouraging self-repair. With this product, you'll get to see visibly healthy results in no-time!
Why we love it:
Soothes sunburns, cuts and insect bites
Pretty pastel pink packaging
Very portable and great for everyday use
Menthol cools and refreshes the skin
Price: $80.00 for 50 ml
Where to buy: TWO L(I)PS online store
Kora Organics Gentle Cleanser for Sensitive Skin
A rich, soap-free cream, Kora Organics' Gentle Cleanser does everything a cleanser should without irritating your skin. With a blend of noni fruit, chamomile, calendula extracts and avocado oil, it will calm even the most irritated skin! Formulated with zero synthetic fragrance, synthetic colours, and silicones, it can gently cleanse your delicate skin. To add to that, this cleanser does not dry or irritate the skin and can also remove makeup, relieve redness, and keep your skin hydrated the whole day.
Why we love it:
Soap-free and hypoallergenic
Free of artificial dyes and fragrances
Removes light makeup
Price: $44.00
Where to buy: Cosmetics Now
Simple Hydrating Light Moisturizer
This Simple Hydrating Light Moisturiser simply does all the job with no added fluff. It hydrates and replenishes skin with its skin-loving ingredients and vitamins such as Pro-Vitamin B5 and Vitamin E. With no added artificial perfume, colourings or harsh chemicals, this moisturiser is not greasy and dry at all. While it is great for sensitive skin types, it really can work with all skin types. One of the best skincare for sensitive skin, this moisturiser will leave your skin feeling soft, smooth and perfectly hydrated for up to 12 hours.
Why we love it:
Lightweight and no greasy residue
Rich in skin-loving vitamins
Free of skin irritants like artificial fragrances
Great for all skin types
Price: $15.90
Where to buy: Watsons
Drunk Elephant B-Hydra Intensive Hydration Serum
This is an ultra-hydrating serum that can replenish essential nutrients to improve your skin texture and tone. Formulated with pro-vitamin B5 and pineapple ceramide, the serum can attract and hold moisture to your skin for up to 24 hours! The serum can go a step further and even protect your skin against free radicals, uneven texture and fine lines. This bio-compatible formula will help you look brighter, healthier and more youthful with every application.
Why we love it:
Contains ultra-hydrating Vitamin B4 and ceramides
Locks in moisture up to 24 hours
Combats free radicals
Anti-ageing effects
Price: $83.50
Where to buy: Shopee
Avene Skin Recovery Cream
When your skin has already become irritated, apply this moisturiser. Avene Skin Recovery Cream calms irritation and gives skin long-lasting protection. It uses paracrine to combat irritation. When combined with Avene Thermal Spring Water, it soothes skin and reduces its reactivity. It only contains a few ingredients—12 to be exact—so you can be assured that it is gentle. No need to worry because it is free of preservatives, paraben, fragrances, and alcohol.
Why we love it:
Contains soothing thermal spring water
Rich in antioxidants, vitamins and minerals
Excellent SOS treatment for red and irritated skin
Price: $38.00
Where to buy: iShop Changi
L'Occitane Shea Butter Ultra Rich Body Cream
With a super-high concentration of shea butter and other super moisturizing extracts like linseed, marshmallow, sweet almond, honey, and softening apricot oil, this body cream from L'Occitane is a must-have skincare product for sensitive skin Not just it helps to hydrate your skin for up to 72 hours but can also restore your skin to an enriched relaxed state Despite having a rich and thick texture, this body cream sinks quickly into the skin and leaves it feeling soft and comfortable without any greasy residue.
Why we love it:
Luxurious and decadent texture
Locks in moisture up to a whopping 72 hours!
Calming scent of sweet almond and honey
Price: $72.00
Where to buy: L'Occitane online store
Burt's Bees Sensitive Daily Moisturizing Cream
This moisturiser by Burt's Bees is scientifically proven to moisturise sensitive skin all day without causing redness or irritation. This daily cream is formulated with softening cotton extract which can sustain the skin's moisture, shielding skin from possible irritants. Adding on to that, it also has rice extract which can moisturise skin whereas the aloe vera extract can soothe it. Natural and gentle, this natural facial cream should be a part of our sensitive skincare regimen.
Why we love it:
Protects skin from the elements
Combats free radicals and oxidative stress
Soothes inflammation with rice and aloe vera extract
Price: $40.19
Where to buy: iShop Changi
Estee Lauder Advanced Night Repair Synchronized Recovery Complex II
This is a powerful night serum that can instantly add radiance and hydration to the skin. Not just that, this Estee Lauder serum is also tested and proven to dramatically reduce the look of the key signs of ageing. Formulated with Hyaluronic Acid, this power-packed serum is a 'moisture magnet' that can help lock in moisture as well as reduce the appearance of fine lines and wrinkles. Use it every night and your skin will look and feel smoother, stronger and younger in no time.
Why we love it:
Easy serum drop applicator
Ultra hydrating and lightweight
Anti-ageing effects
Protects the skin's moisture barrier
Price: $150.00
Where to buy: Lazada
Clinique Moisture Surge Overnight Mask
A very popular night mask, the Clinique Moisture Surge Overnight Mask gives so much moisture that even when you wash your face the next day, you will still feel your skin is moisturised. It also has a gel-cream formula so it is refreshing when you apply and does not feel like heavy cream. If you dislike the goopy feeling of a face mask, then this is the one to try. Skin is instantly hydrated for a plump, dewy, healthy-looking glow. And yes, it works for 72 hours non-stop. So if you are religious about your skincare then you will not have to worry about your skin drying out!
Why we love it:
Lightweight gel-cream texture
No greasy residue
Hydrates for 72 hours
Perfect as an overnight treatment
Price: $61.00
Where to buy: Sephora
Fresh Soy Face Cleanser
Recommended by many dermatologists, Fresh's Soy Face Cleanser is without a doubt one of the best skincare products for sensitive skin! Its satisfyingly frothy formula contains cucumber extract and aloe vera that calm and hydrate dry, and irritated skin. This cleanser is especially useful for those who travel a lot because it helps a lot with the irritation that inevitably occurs after a flight. Additionally, it is infused with nourishing rosewater, which is well known for its calming and balancing properties.
Why we love it:
Contains calming cucumber and aloe vera extract
Rosewater gives you glowing skin
Cleanses without stripping skin of its natural moisture
Price: $63.00
Where to buy: Sephora
Tony Moly The Black Tea London Classic Cream
This plant-based moisturiser by Tony Moly is formulated with 51% fermented black tea extract. In general, pure high-quality black tea extract contains anti-ageing properties, hence this face cream can help you combat signs of ageing by nourishing your skin with powerful hydration and beneficial antioxidants. Apart from that, it can also effectively brighten your skin while also providing essential moisturise deep into your skin's layers to nourish and brighten it.
Why we love it:
Anti-ageing and rich in antioxidants
Highly moisturizing
Slows down signs of premature ageing
Price: $37.00
Where to buy: Shopee
Dior Hydra Life Oil To Milk Makeup Removing Cleanser
This highly effective cleanser by Dior is the finest makeup remover for sensitive skin. Enriched with nourishing ingredients like almond oil, it can remove all types of makeup and impurities including waterproof makeup from the face and eyes without leaving an oily residue. Upon contact with water, it will transform into a rich, creamy emulsion that rinses away all impurities. Your skin will be left feeling perfectly clean, soft and smooth.
Why we love it:
Removes even waterproof makeup
Suitable for sensitive skin
Doesn't clog pores
Price: $76.84
Where to buy: Care to Beauty
Tata Harper Restorative Eye Creme
This is an eye cream that is going to make a big hole in your wallet but it is absolutely worth the splurge! Because this natural eye cream can help minimize the look of wrinkles, dark circles and puffiness in an instant! Not just that, packed with peptides from Spanish lavender, Safflower and Buckwheat Wax hydrates to eye cream is one to give you youthful-looking eyes. Also, a natural source of vitamin E, this eye cream will pump moisture into your skin and help smooth roughness!
Why we love it:
Reduces puffiness around the eyes
Improves blood circulation
Minimizes dark circles
Price: $174.00
Where to buy: Selfridges & Co
Body Shop Mediterranean Almond Milk With Oats Instant Soothing Mask
Who said those with sensitive skin should use face masks? Well to break the myth, here is an exfoliating face mask by Body Shop that is packed with sweet almond milk and oats. Inspired by ancient Roman recipes, the mask has a creamy, porridge-like blend of oatmeal that is super comforting on the skin. It can help relieve dry, sensitive skin from feelings of tightness and itchiness as it gently exfoliates to leave skin feeling softer, smoother and recharged with moisture.
Why we love it:
Contains oats to soothe eczema-prone skin
Exfoliates and hydrates at the same time
Relieves itching and irritation
Price: $38.00
Where to buy: Body Shop online store
Soleil Toujours 100% Mineral Sunscreen Glow SPF 30
A 100% mineral tinted sunscreen with SPF 30 protection, this Soleil Toujours sunscreen can protect your skin from the nasty Singapore heat! Not just does it provide you with superior UV protection but also will give you a skin-perfecting luminous glow! Infused with EcoSunComplex, a proprietary antioxidant blend composed of red algae, vitamin C ester, vitamin E and bisabolol, this sunscreen can also prevent loss of firmness. Adding on, it can increase your skin's smoothness and decrease wrinkle depth. It complements all skin tones and is lightweight enough for daily use.
Why we love it:
Contains UV protection
Great for everyday wear
Lightweight and doesn't clog the pores
Price: $58.00
Where to buy: Sephora
For more beauty info make sure to follow us on Instagram and Facebook!