Skincare
Here Are The Top 14 Best Facial Steamer In Singapore
Steam it up
By: Cherelle Lim / January 8, 2023
Problems with clogged pores? Steaming your face is a fantastic way to open up all those pores, a facial steamer can help with that. Exfoliation can also be aided by steaming your face. You don't need to go to a spa to enjoy a pleasant facial treatment that loosens up any buildup for a deeper cleanse, hydrates the skin, and aids in exfoliating for products to absorb better.

So, give these best facial steamers in Singapore recommended by Beauty Insider a try!
Benefits Of A Steaming Your Face
Steaming your face can provide several benefits that help improve your complexion. In addition, steaming your face can help clear up sinuses and open up your pores.
Besides that, steaming can also help release debris and dirt hidden inside your pores, as well as get rid of toxins in your skin! Opening up your pores is also a great benefit if you are planning to exfoliate too.
Not only is steaming your face hydrating, but it also helps promote blood circulation. It is also a soothing way to relax, especially on a cold, rainy day!
Steaming your face also helps it better absorb the rest of the skincare products you apply after. So, hurry up and get your hands on a facial steamer now! 
Best Facial Steamer In Singapore
1. Panasonic EH-SA31 Facial Ionic Steamer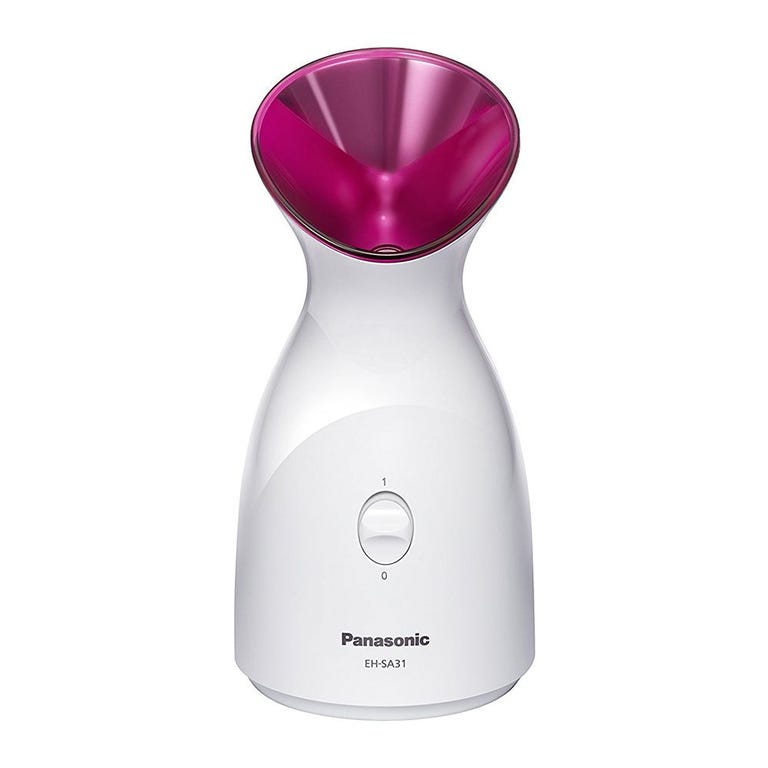 Looking for a miracle? Well, look no further than the Panasonic EH-SA31 Facial Ionic Steamer! This device provides a quick 6-minute pamper-sesh that'll have you feeling relaxed in no time. Providing spa-like treatments in the comforts of your own home, this product also uses steam particles that are nano-sized to help moisturise the skin. Besides that, it also helps with removing dirt, makeup and other impurities on your skin in the gentlest way possible.
Price: $229.90
Where to buy: Lazada
2. Dr. Dennis Gross Skincare Pro Facial Steamer
Dr.Dennis Gross is a cult favourite skincare brand and did you know that they also provide facial steamers? Well, they do and the Dr. Dennis Gross Skincare Pro Facial Steamer is absolutely professional-grade! Delivering micro-steam technology, it has the benefit to help hydrate your skin, detoxify it and give your complexion a clarifying look. In just 9 minutes, it is able to help purify your skin and prep it for every post-steaming activity you need. Thus, leaving your skins with an instantaneous radiance that looks healthy! After using this facial steamer, your pamper routine will feel incomplete without it.
Price: $301.00
Where to buy: Desert Cart
3. Pure Daily Care 3-in-1 Ionic Nanosteamer Facial Steamer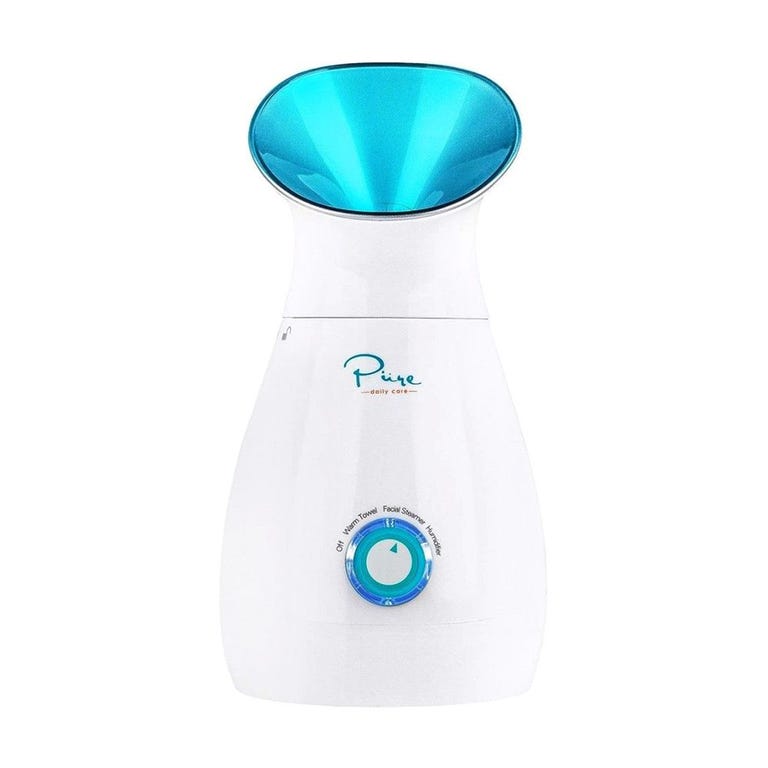 Considered the best facial steamer overall is the Pure Daily Care 3-in-1 Ionic Nanosteamer Facial Steamer! Although at-home spa treatments can't exactly compare to what professionals have to offer, this facial steamer gives a pretty close shot! This facial steamer is a 3-in-1 that has the benefit to provide users with up to 30 minutes of steam time in silence! Thus, you don't have to worry about loud whirring noises that can sometimes ruin a mood. Besides that, the best part is that you can switch between a humidifier, facial steamer or even a towel warmer! Including a bonus kit of instruments to help you remove the impurities of the surface of your skin.
Price: $94.00
Where to buy: Ubuy
4. Vanity Planet Aira Ionic Facial Steamer
If you want a chic-looking facial steamer, then the Aria Ionic from Vanity Planet is your pick! This device is the perfect blend of features that are essential with a chic design. It has the benefit to ionise water molecules that can help soften and hydrate your skin! Thus, you can boost circulation and detoxify your pores in a jiffy! Soothing and warm on the face, reviewers are loving how fast the steam kicks in. The best part is that you no longer have to strain your neck in an awkward position to feel the steam on your face!
Price: $105.00
Where to buy: Ubuy
5. Lonove Nano Ionic Facial Steamer
The Lonove Nano Ionic Facial Steamer has the benefit to provide your skin with a surge of refreshing hydration. Using a sonic atomiser, it produces steam using ionic particles that are charged negatively. Thus, it is able to provide results that are 10 times more effective at skin penetration. For such a small device, it provides steam continuously for 10 minutes. Although, steaming your face at 10-minute intervals can be a hassle if you want a 20-minute steam session. But, a bonus is that this set comes with extraction tools to help remove dirt and build up! Since it's also a lightweight device, you can have your pamper-sesh anywhere from your bedroom to your living room!
Price: $90.00
Where to buy: Desert Cart
6. True Glow by Conair Moisturizing Mist Facial Sauna System
The perfect facial steamer set you need right now is the True Glow by Conair Moisturizing Mist Facial Sauna System. Not only is it affordable with the amount of products it comes with, but it is great for your complexion! It has all the benefits you need from opening up your pores to helping dust away all the impurities and dirt! The set also comes with a facial cleansing brush that has a changeable head. So, swap between a brush and a sponge according to your needs! If you are dealing with problems of sinus, fret not, as it also comes with a narrow cone that can help! For smooth, glowing skin, use the cleansing brush before steaming and use the sponge to apply moisturiser after.
Price: $55.06
Where to buy: Amazon
7. OKACHI GLIYA Facial Steamer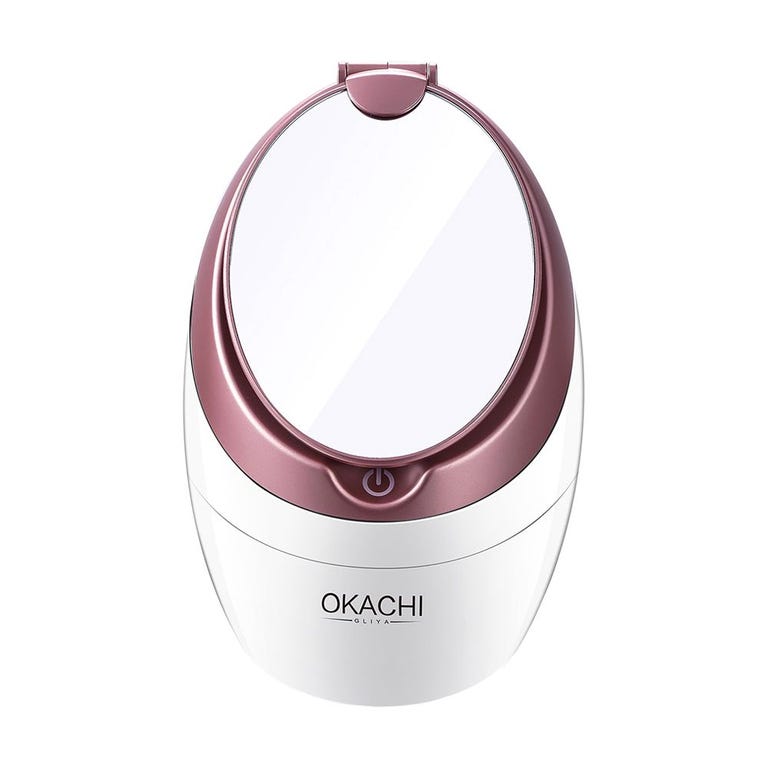 For a fuss-free experience, check out the OKACHI GLIYA Facial Steamer! This is a goof-proof product that even beginners can master. With just a single press of a button, you'll be ready and good to go! No fancy settings and no complicated functions for a timer. Once you turn it on, it'll steam your face for 15 minutes, before shutting off automatically! Therefore, you don't need to worry about setting an alarm and missing an event! Although I guess the downside is that you can only steam your face at 15 minutes intervals. But, I guess it helps some of you to not over steam your face!
Price: $96.00
Where to buy: Lazada
8. Cavienes Nano Ionic Facial Steamer
Taking advantage of nanotech, the Cavienes Nano Ionic Facial Steamer has the benefit to produce steam at full power in just 30 seconds! Diving deep into your skin, it helps moisturise your skin to prevent irritations and relax your skin. To help achieve a healthier complexion, it even boosts the skin's absorption of nutrients. Although it only steams at 10-minute intervals, it provides deep hydration that helps smoothen out your skin! Easy to use it is also portable so you can bring it with you on vacation as well! Who doesn't want to bring along a mini spa wherever they go?
Price: $35.22
Where to buy: Amazon
9. ORA Face Maskerade DUET Facial Steamer and Mask Maker
Surprise, surprise! The name of this facial steamer might confuse you, but it is exactly what it says it is. The ORA Face Maskerade DUET Facial Steamer and Mask Maker. Nope, it isn't a scam. This device is actually a 2-in-1 that can produce masks too! After spending a few minutes of steaming your face, pamper yourself even more with an organic face mask straight from your device! Within 6 minutes, it's able to produce a gel mask from any vegetable and fruit liquid. Not only that, it also has a mask-shaping tray that can help perfectly fit your face!
Price: $182.30
Where to buy: Amazon
10. EZBASICS Ion Facial Steamer and Hair Humidifier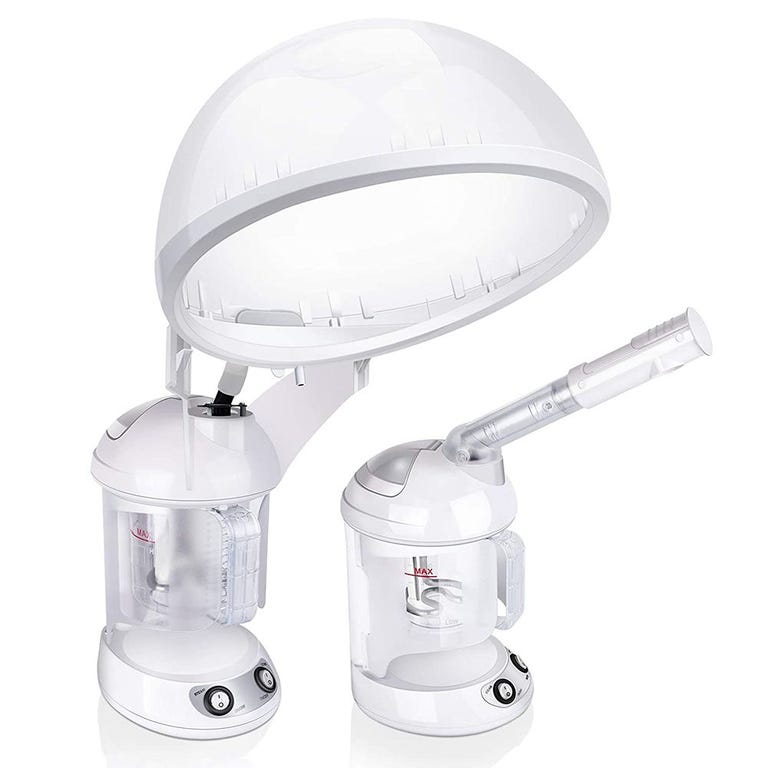 This intensive steamer from EZBASICS has the benefit to help steam both your hair and face at the same time! The EZBASICS Ion Facial Steamer and Hair Humidifier release steam that is super gentle on your pores. The head attachment, on the other hand, gives your hair its much-needed dose of hydrating with its steamy powers! If you want that salon-worthy treatment, add your favourite hair mask to your pamper routine!
Price: $123.81
Where to buy: Amazon
11.  OTHA Nano Ionic Facial Steamer
The OTHA face steamer is one of the best buys on our list. It emits relaxing steam that thoroughly cleanses your follicles, eliminating dirt, and other impurities for cleaner skin. It also has the most accessories, including a cute blue furry-eared headpiece to keep your hair away from your face while you indulge, a beauty blender, and four blackhead extractor tools for extraction after each facial steam.
Not only that, but it has an adjustable nozzle that allows you to customise the range of the steam: It allows you to widen the nozzle to have the steam spray over the entire face, making you feel invigorated. By dropping essential oils straight into the nozzle before you begin steaming, you can enjoy the lovely smells of grapefruit or minty peppermint.
Price: $48.29
Where to buy: Amazon
12.  Sarah Chapman Skinesis
The Pro Hydro-Mist Steamer, which was inspired by the professional face steamers used at Sarah Chapman's Skinesis Clinic, gives you a spa-like experience in the comfort of your own home. The portable facial steamer offers professional-grade cleaning and clarifying benefits. It emits nano steam particles rich in negative ions that penetrate the skin more effectively than traditional steam, assisting in the quick moisturization of skin, the reduction of fine lines and wrinkles, the enhancement of skin elasticity, and the clearing of pores for better cleansing.
Price: $196.50
Where to buy: LookFantastic
13. Panasonic Facial Steamer EH-XS01
The Panasonic Facial Steamer EH-XS01 features nano-ionic technology to increase moisture by up to 130% while decreasing wrinkle depth by 19%. The steam enters your pores and clears impurities, resulting in clearer, dewier skin. With three settings options, you can enjoy a three, six, or 12-minute steam cycle whenever you like. To lock in the hydration, apply a serum or moisturiser afterward.
Price: $172
Where to buy: CurrentBody
14. Vanity Planet Senia Hot & Cold Facial Steamer
The steam and microderm package includes the Senia Hot & Cold Aromatherapy Facial Steamer, which soothes your skin with dual-temperature steam and six programmable beauty settings, as well as the Exfora Personal Microdermabrasion Wand, which unclogs pores, eliminates inflammation-causing bacteria, and exfoliates for a rejuvenated complexion. The all-inclusive settings accommodate various skin types and demands.
Hot mode, for example, opens pores to allow serums, masks, and treatments to penetrate deeper, whereas cold mode shuts pores, tighten skin, and locks in moisture. Hydration mode hydrates the skin for maximum radiance and suppleness. The oil control mode controls oil balance and clears congested pores, and hot and cold modes alternate to deliver double cleansing and perfect shine.
Price: $170
Where to buy: Vanity Planet
Make sure to follow Beauty Insider on Instagram and Facebook for the latest update!