Your hair is an important aspect of your body. It is your crown that you wear. However, did you know that an average adult sheds 50-100 strands of hair a day? If a person loses more than 100 strands a day could indicate a hair loss problem. Hence, if you notice or feel like you are losing hair excessively, then Beauty Insider gives you some tips & tricks, along with recommendations on some of the Best Hair Loss Treatments in Singapore, just for you! Say hello to luscious locks in no time.
---
How To Know If You Have a Hair Loss Problem?
1.Itchy Scalp
For some, this is a sign of hair loss. Excessive rubbing, scratching and brushing your scalp can do damage to your hair follicles. Hence, you tend to lose hair.
2. Excessive Hair Falling
People tend to overlook excessive hair shedding. This is because, on average, we lose 100 strands of hair a day, which is normal. When you start noticing a lot of hair stuck on your pillowcases, in your combs, brushes or collecting at the end of your shower, then it is most likely that you have a hair loss problem
3. Scalp Becomes Visibly Noticeable
If you used to have a thick set of hair that covered your head, but now you do not, that means you have a hair loss condition. Also, if your scalp and skin is more visible now, more than ever, then you have been losing hair.
4. Circular or Patchy Bald Spots
Some experience smooth, coin-sized bald spots. This usually affects just the scalp. At times your skin may become itchy or painful before the hair falls out.
---
What Causes Hair Loss?
There are many types and causes of hair loss. Mostly it is because of hormonal changes, medical conditions or a normal part of ageing. In fact, hair loss is very common and anyone experience it.
Among some of the common hair loss causes are:
Ageing
Genetics
Illness or Diseases
Stress
Protein deprivation (when dieting)
Hormonal changes
Pregnancy
Puberty
Menopause
Thyroid disease
Iron-deficiency Anemia
Alopecia Areata (An autoimmune disease that attacks hair follicles)
Depression
Extreme weight loss
We know, hair loss can be worrying but don't worry because on aeverage people typically lose 50 – 100 hairs a day. So, hair loss is pretty normal but if your hair loss escessively and new hair doesn't replace the hair that has fallen out, that's when you need help!
---
What Are The Best Hair Loss Treatments in Singapore?
Lucky for you because there are many hair loss treatments in Singapore to cater those who are distressed by persistent hair loss. Head over to these salons and show your tresses the love it needs!
1. Bee Choo Origin – Herbal Hair Treatment
If you have a hair loss condition, try targeting the root of the problem with the Bee Choo Origin Herbal Hair Treatment! This hair service particularly focuses on your scalp and hair roots, to ensure healthier growth of hair. Bee Choo Origin uses Herbal Cream made with all-natural herbs and ingredients. This is beneficial for those facing issues with their scalps, such as hair loss, post-pregnancy hair loss and oily scalp.
Bee Choo Origin's Herbal Hair Treatment helps to unclog pores effectively, in order to remove residues effectively. The nutrients provided in the treatment rebalances pH level in your hair. As a result, your hair grows back in a well-nourished environment. Additionally, this herbal treatment is inclusive of a 45-minute steaming process that aids in improving your blood circulation. As Bee Choo Origin prides itself in giving everyone a chance to have a head full of luscious hair, head over to their salons for one of the most affordable hair loss treatments in Singapore.
Price: $34 for Men, $36-70 for Women
Contact Us for more details : (65) 6742 3033 OR make your appointment today!
2. Aderans Japanese Hair & Scalp Treatment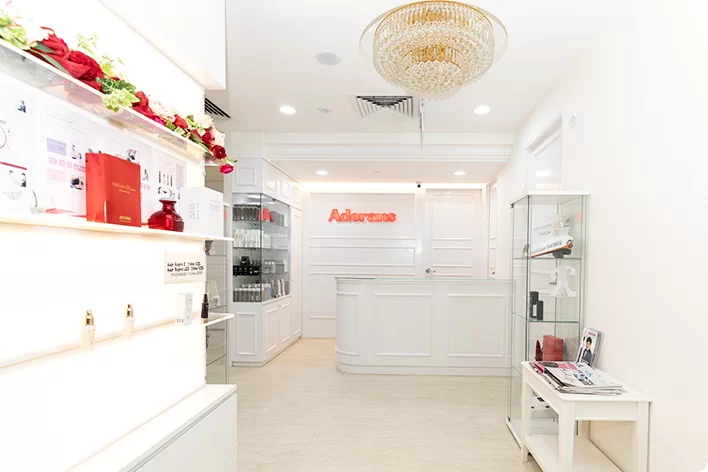 With over 50 years of research and experience put into targeting hair issues such as hair thinning, hair loss and other hair-related concerns, Aderans Hair Salon will have your hair growing back in no time! Aderans is a Total Hair & Beauty Solution hailing all the way from Japan. Best believe that you'll be in good hands as they have a team of highly skilled and trained professionals that will guide you through the whole treatment process. Starting with a consultative scalp & hair check, they use a microscope camera to find the main cause of your hair issues. After that, they will apply their in-house botanical & natural hair care products that are free from harmful ingredients. What's more, is that you'll be able to experience their cutting-edge haircare devices that have built-in LED red lights to encourage a healthier scalp gently! Thus, it promotes new hair growth painlessly and while it does that, you'll also be treated to a head, neck & shoulder massage for relaxation!
Price:
Basic course: $200
Advanced course with LED treatment: $300
Address: 360 Orchard Road #02-03/04 International Building
Book an appointment here to have luscious locks!
3. Bioskin Stem Cell Hair Growth Treatment
Greasy hair, dandruff or itchy seborrheic dermatitis taking away from your hair confidence? Then you should totally check out Bioskin (established in 1996 by founder and CEO Mathilda Koh) and their revitalizing Stem Cell Hair Growth Treatment! As our hot and humid climate tends to exacerbate itchy scalp conditions like dandruff and seborrheic dermatitis, detoxifying your scalp regularly is essential to keeping flakes and itching at bay.
This intensive hair treatment uses a unique formulation of stem cells to specifically target scalp concerns that can potentially lead to stages 1 and 2 of hair loss. At the beginning of the treatment, the therapist will deliver 99.9% of pure oxygen to the scalp at a high pressure to eliminate impurities and to thoroughly nourish the roots of the hair. Then, the therapist will run a non-invasive roller directly along the scalp to activate the hair follicles while applying infrared rays to optimize oxygen and nutrient absorption. Finally, the therapist will give you a scalp massage with Bioskin's Stem Cell Scalp Tonic. Overall, this treatment serves to stimulate microcirculation and regulate sebum production to give you a healthier scalp in the long run.
Click here to book an appointment and enjoy your first trial for $68 (usual price: $550).
Outlets:
1. The Centrepoint (Flagship Store): 176 Orchard Road The Centrepoint #02-22 – #02-25, Singapore 238843
2. Malacca Center: 20 Malacca Street #15-00 Malacca Center, Singapore 048979 (Closed every Monday)
3. Toa Payoh Central: 185 Toa Payoh Central #01-338, Singapore 310185 (Closed every Monday)
4. The Midtown: 1187 Upper Serangoon Rd, #01-49/50 The Midtown, Singapore 533971(Closed every Tuesday)
5. Income @ Tampines Junction: 300 Tampines Avenue 5 #07-03 Income @ Tampines Junction, Singapore 529653(Closed every Wednesday)
6. Jurong East: 133 Jurong Gateway #01-295, Singapore 600133
Opening Hours: Weekdays: 11:30am – 9:30pm, Weekends & Public Holidays: 9am – 7pm
Hotline: +65 6222 6777
WhatsApp: +65 8288 7733
4. SMiB Coral CalciumAnti Hair Loss Hair CareSet
The SMiB Coral Calcium Anti Hair Loss Hair Care Set is one of the most effective hair treatment in Singapore that reduces hair loss. This set is infused with top-grade ingredients that aid with hair loss. One main ingredient in these products is high-grade coral calcium that is extracted using elastoplasticity from deep-sea edible corals.
This coral calcium aids in the cleansing, calming and reducing the irritation of your scalp. What's more is that, if you're one with a sensitive scalp, this set would treat your scalp well as it does not have traces of harmful chemicals such as mercury, arsenic or even lead.
Included in this set are the Coral Calcium Shampoo, Coral Calcium Treatment, Plasma Scalp Massage and the Coral Calcium Hair Essence. There was a clinical study that was conducted, which concluded that when the SMiB products are used in a complete set, the results are much more visible, effective, and it works faster in reducing your hair loss while nourishing your scalp.
Price: $199.90
Where to buy: SMiB online store
5. NAOKI Hair Dressing – Oway Organic Head Spa
The Oway Head Spa by NAOKI Hair Dressing uses Oway products to treat hair loss. Oway is an Italian product which is 100% organic. This product is suitable to be used by children. As in Europe, people are particular on environmental issues, the packaging of these hair loss products are recyclable and environmentally-friendly.
This treatment by NAOKI Hair Dressing is perfect especially those with hair loss problems in Singapore for the heat and humidity. As the scalp sweats and accumulates dirt, the closing up of pores and not being able to breath causes hair loss. With that Oway Head Spa removes the dirt, oxidises the sebum and leads you to a much cleaner scalp. As they massage your scalp, it will improve your blood flow and it gets rids of fatigue. NAOKI Hair Dressing takes about an hour for the entire experience.
Price:
Basic
$140 for hair length above the shoulders, $170 for hair length below the shoulders
Premium
$200 for hair length above the shoulders, $230 for hair length below the shoulders
Address: 111 Somerset Rd, #02-35/36 TripleOne Somerset, Singapore 238164
Ask Us Now: +65 87221586 OR Call (65) 6721 9180
Book an appointment here for a natural hair loss treatment
6. 99 Percent Hair Studio – Nioxin scalp treatment
99 Percent uses Nioxin scalp treatments to treat hair loss. Nioxin's products are formulated to improve the health of the scalp while maximizing the appearance of thicker and fuller hair. This is to combat their hair loss condition. It compromises of a three-step system that is matched to your hair type. It combines hair care and treatment to give your scalp and hair the best possible chance of growing.
Other than that, Nioxin's scalp treatments consist of technologies that are formulated to give the appearance of up to 11,000 more strands of hair. This is achieved by penetrating the strands of hair for ultimate manageability and by increasing the diameter of the shaft for a much voluminous appearance.
Price: $89 for partial hair, $169 for full hair
Address:
Orchard Outlet – 181 Orchard Road #04-10/11, Orchard Central, Singapore 238896 / Tel: (65) 6238 3667
Bedok Outlet – 799 New Upper Changi Road, #03-23 Bedok Point, Singapore 467351 / Tel: (65) 6702 7062
Bugis Outlet – 799 New Upper Changi Road, #03-23 Bedok Point, Singapore 467351 / Tel: (65) 6396 36676
Book an appointment here for a consultation change your hair game!
7. TK TrichoKare – Advanced Age Defying Hair Treatment
As we age, hair loss becomes a more prevalent problem. If your hair loss problems are a result of age, consider TK TrichoKare's Advanced Age Defying Hair Treatments! This was formulated especially for age-related change in density and diameter of the hair. This treatment uses European herbal hair remedies promoting hair growth. Your hair follicles are the first target for this treatment.
As a result of this, expect your hair to feel more nourished and strengthened. Also, due to the focus on improving the strength of your hair follicles, hair growth will be able to take place healthily and you can say goodbye to hair loss. All in all, observe thicker hair that does not fall out as easily. Validated by Trichologists-specialists, you can be assured that your hair is in professional hands at one of the best hair loss treatments in Singapore.
Price: $40 (First Trial)
Address: 23 Serangoon Central, #02-24, Singapore 556083
Book an appointment here and get thicker hair!
8. Organic Hair Regrowth Solution – Advanced Hair Growth Treatment (AHG)
As if excessive hair loss is not bad enough, dull hair is something incredibly frustrating too. Organic Hair Regrowth Solution's Advanced Hair Growth Treatment (AHG) can help tackle that problem! A complete hair and scalp treatment, this results in thicker, healthy, and shiny hair! Using Science coupled with Natural ingredients, the AHG treatment helps to regenerate hair cells.
As a result, your hair receives better nutrients that achieve healthier hair growth. In addition, this treatment repairs problematic scalps to prevent destructive enzymes affecting hair growth, hence, preventing hair loss. Toxins in your scalp are hence drawn out, improving absorption of nutrients. At the end of this hair loss service, you can enjoy healthy, shiny, and thick hair growth.
Price: $248
Address: Orchard Central #03-15181 Orchard Rd
Book an appointment here to have a consultation on preventing thinning of the hair!
9. Hair Laboratories Co – Mezo Scalp & Hairline Micro Pigmentation
If you want visible effects that cause your hair to appear fuller instantly, try the Mezo Scalp & Hairline Micro Pigmentation by Hair Laboratories Co! Micro-pigmentation is a temporary makeup procedure, resulting in the appearance of a fuller head of hair.
Unlike microblading, Mezo Scalp & Hairline Micro Pigmentation is one of the services that involve tiny layered dots. This replicates a shadow effect on your scalp, causing your hair to appear fuller. It is important to note that The Mexo Scalp & Hairline Micro Pigmentation may possibly cause discomfort and pain. However, it also results in a lower post-process recovery time.
Price: $2000-8000
Address: Midpoint Orchard, #04-04, 220 Orchard Rd, Singapore 238852
Book an appointment here and enjoy a fuller-looking hair!
10. Sozo Aesthetic Clinic – Regenera Activa
If you have a sensitive scalp and a hair loss problem, you can try Sozo Aesthetic Clinic's Regenera Activa! Applying micrografts extracted from your body, this is natural and safe. Due to this being from your body, there is no risk of rejection or allergy. A quick and painless procedure, the Regenera Activa has no downtime.
Overall, this procedure results in stronger and thicker hair, with long-term effective growth of hair. This natural treatment is without a doubt one of the best hair loss solutions for sensitive scalps!
Price: $3000+
Address: 1 Raffles Place, #05-12/13, Singapore 048616
Book an appointment here and enjoy healthy hair services!
11. 6 Elements Herbal Regeneration Hair Loss Spa Treatment
The 6 Elements Hair Spa hair loss treatment, can truly soothe your scalp while also prevent hair loss. The treatment incorporates many botanicals taken from plants, such as turmeric, mint, mulberry and more where each one of them are packed with hair-loving properties that are successfully useful in combatting hair issues like Acne Scap, Dry Scalp, Itchy Scalp, Alopecia, and Eczema Scalp.
Apart from that, this Herbal Regeneration Hair Loss Spa Treatment can also encourage blood flow for healthy hair growth. With the use of a needle-less mesotherapy machine that uses electroporation technology, this treatment allows the nutrients in the active ingredients to penetrate deep into the cells.
Address:
AMK Hub, 53 Ang Mo Kio Avenue 3, #B1-35, Singapore 569933 / +65 6556 3023
Nex, 23 Serangoon Central, #B2-31/32, Singapore 556083/ +65 6556 3023
Bugis Junction, 200 Victoria Street, #02-42, Singapore 188021 / +65 6264 5637
Bedok Mall, 311 New Upper Changi Road, #B2-38, Singapore 467360 / +65 6844 9661
Century Square, 2 Tampines Central 5, #02-10, Singapore 529509 / +65 6342 5786
Parkway Parade, 80 Marine Parade Road, #02-08/09/10, Singapore 449269 / +65 6587 8010 – Century Square
White Sands, 1 Pasir Ris Central Street 3, #03-14/15/16, Singapore 518457 / +65 6585 1420
Book an appointment here for a consultation change your hair game!
12. Topp Care's Healthy Scalp Treatment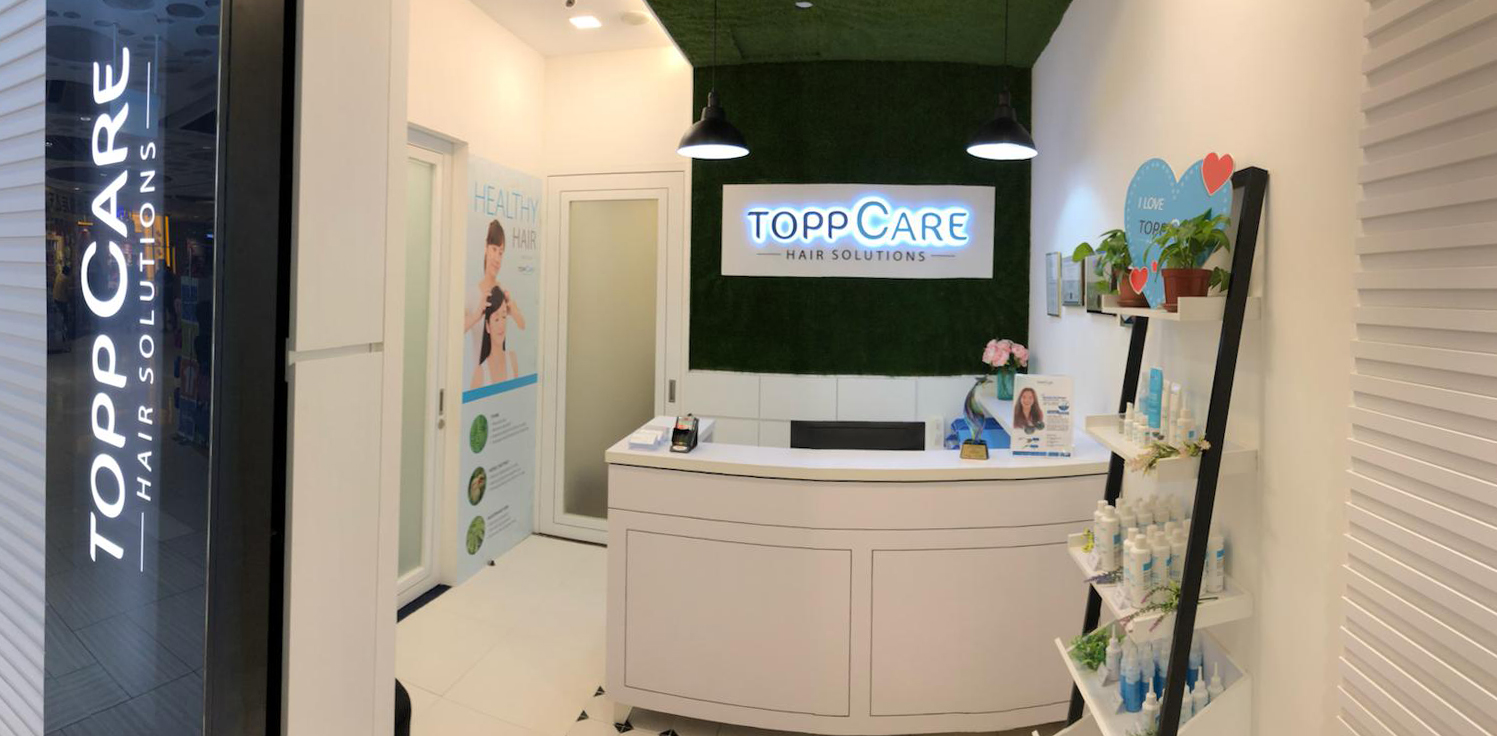 Last but not least in our best hair treatments in Singapore list is Topp Care, Scalp Treatment. This treatment will help you restore both your hair and your confidence so you can be the best version of yourself. Suitable for all scalp conditions, Topp Care's Healthy Scalp Treatment can help prevent hair loss and supports regenerative functions to promote hair growth.
The benefits of this treatment include gentle cleansing, eliminating bacteria and slowing down sebum production. This treatment promotes blood circulation and therefore also helps to fortify and thicken hair. The result is a refined and revitalised scalp along with stronger and healthier hair.
Address: Eastpoint Mall #03-24, Singapore 528833
Contact Number: +65 66453020
Book an appointment here and your scalp will thank your later for it!
13. Angeline Yong Dermatology
With 5 star ratings on Google, Angeline Yong Dermatology offers a list of comprehensive treatments all under one roof. Besides that, Dr. Angeline Yong specialized in hair and nail disorders, hence it is the go-to clinic for people that suffer from hair loss. There are various types of hair loss such as Female-Pattern Hair Loss, Androgenetic Alopecia, Male-Pattern Hair Loss, and Tinea Capitis. They will determine the exact causes of hair loss in order to effectively cure and treat it.
Address: 6 Napier Road, #03-02 Gleneagles Medical Centre Singapore 258499
Opening hours: Weekday: 8.30 am – 5.30 pm. Saturday: 8.30 am – 12.30 pm. Closed on Sunday
Contact Number: +65 65921311
Book an appointment here for a consultation change your hair game!
14. BioRevive HairGro – Hair Gro Treatment
BioRevive HairGro is known as the leading hair loss treatment center in Singapore due to the visible results. They incorporate a powerful blend of bio botanical ingredients and Ayurvedic techniques. In addition, they will personalize the treatment according to the client's needs to ensure optimal results. With their high-quality products and dedicated staff, they will ensure that you obtain desired results.
Address: The Midtown, 1189 Upper Serangoon Road, #02-02, Singapore 534785
Opening hours: Open daily: 11 am – 9 pm
Contact Number: +65 63976322
Book an appointment here for a consultation change your hair game!
15. Hairdreams Singapore – Stop And Grow Scalp Treatment
Next, Hairdreams Singapore is the preferred salon amongst the locals as they deliver impeccable treatments and results. They offer two types of treatments for hair loss which are microlines treatment, which delivers an immediate solution. Meanwhile, stop and grow scalp treatment provides a long-term solution to the client. They will consult you on the best treatment possible to ensure optimal results.
Price: $130
Address: 51 Cuppage Road 01-09 Singapore 229469
Opening hours: Monday to Saturday: 11 am – 9 pm. Closed on Sunday and Public Holiday
Contact Number: +65 96754138
Book an appointment here for a consultation change your hair game!
16. Follicle Hair – Korean Regenerative Hair Therapy
Are you still looking for the best hair loss treatment in Singapore? You should add Follicle Hair to your list. Their clinic is equipped with the latest technology to ensure effectiveness and visible results. There are several options of treatments for hair loss such as Korean Regenerative Hair Therapy, Meso Scalp Treatment and HTMA Hair Diagnosis. With their relaxing ambiance and dedicated staff, they will ensure that your wellbeing is their top priority.
Address: Paragon 290 Orchard Road #06-22/23/24 Singapore 238859
Opening hours: Monday to Saturday: 10:30 am – 8 pm. Sunday and Public Holiday: 10:30 am – 5 pm
Contact Number: +6597877665
Book an appointment here for a consultation change your hair game!
17. Yun Nam Hair Care
Yun Nam Hair Care is a renowned hair loss center that is trusted by the locals as they have helped countless people that experience hair disorders like hair loss, balding, oily hair, and prematurely greying hair. With their cutting-edge technology and high-quality treatments, they will deliver results that you have always wanted to see.
Address: Ang Mo Kio Hub 53 Ang Mo Kio Ave 3 #03-27 Singapore 569933 Singapore
Opening hours: Monday to Saturday: 10 am – 9 pm. Sunday and Public Holiday: 10 am – 7 pm
Contact Number: +6564573232
Book an appointment here for a consultation change your hair game!
---
How To Prevent Hair Loss Issues?
Apart from treating your hair to good treatment, there are many things you can do to slow or stop hair loss. Below are some tips that can help prevent hair loss problems.
1. Eat More Protein Based Foods
Eating more protein can increase keratin is a type of protein needed for strong follicles. Healthy choices include foods like eggs, nuts, beans and peas, fish, low-fat dairy products, chicken, and turkey.
2. Massage Your Scalp With Coconut Oil
Coconut oil is known for its hair strengthening properties and can help prevent hair damage from grooming and ultraviolet (UV) light exposure. The Lauric acid found in coconut oil can also promote better blood flow and help with regrowth.
3. Be Gentle With Your Hair
Your hair is very fragile so remember to handle it with care. Skip tight braids or high ponytails that may pull on hair at the root and potentially lead to excessive shedding. Also avoid using heat stylers, like curling or straightening irons which can further damage the hair shaft.
4. Stay Healthy, Positive and Happy
Some times stress can lead to hair loss problems. So, de-stress yourself by staying healthy and happy. Do things you enjoy and keep your active with productive activities like cooking, reading and exercising. Alternatively, you can do meditation and yoga which can reduce stress and restore hormonal balance.
5. Avoid Smoking
Previous research has shown that there's a correlation between hair loss and smoking in men. Therefore, in order to minimize the risk of hair loss, it is recommended that you avoid smoking.
6. Protect Your Hair
We tend to forget that our hair requires equal care against harmful rays and ultraviolet light. It is important that you protect your hair from sun exposure if you already experience hair loss, this is because sunlight exposure can cause hair breakage.