We bet your is aching after spending hours sitting in front of your computer desk at work. We can hear your body screaming for a soothing and revitalising massage. Why not treat yourself with one this weekend? Wait, but before that, you need to know the best massage parlours in Singapore that offer a wide range of services carried out by professional masseurs around!
Well, don't worry about that because we got you covered. Yes, we went hunting around the island for best massages spot and below Beauty Insider present a list of the 10 best massage parlours in Singapore. Our guide here is handy in helping you pick the right treatment, and points you to some of the best spas on the island.
Benefits Of Getting A Massage
The biggest benefit of getting a massage is receiving that experience of deep relaxation and complete peace with oneself. It's therapeutic where you are unable to do nothing but relax and that's the best part of it really. Did you know, massages enable a bodily reaction that releases endorphins which helps us to feel better and soothes us. Moreover, getting a massage with prompt our stress hormone levels to drop in numbers- as if it slowly seeps out of us.
Additional benefits to gain are:
Reduces anxiety and pressure
Stimulates lymphatic system
Improving recovery from injuries towards soft tissue
Reduces muscle tension
---
Which Massage Is Right For You?
Therapeutic
This is the most common form of massages you'll find in massage parlours. This method of massage is designed to give you complete relaxation and promote blood circulation. This is best if you are under a lot of stress and need to flush it all out of your system.
Aromatherapy
Think ambience scents and mood lighting when you are figuring out if aromatherapy is the one for you. Massage parlours will implement essential oils with a fragrance that promotes therapeutic powers.
Reflexology
When people think of massages, they simply figure it's just touches and presses here and there. However, there are underlying techniques and deep knowledge of the human anatomy that goes into it. Reflexology massages focus on certain parts of our body through pinpoints. It may be a little painful but definitely worth it.
---
1. Aramsa Garden Spa
Tired of city life? Then escape into the garden sanctuary of Aramsa, set in the heart of Bishan Park. Each of the treatment rooms is nestled in individual courtyards, surrounded by lush greenery and cobbled paths. Even before you get a massage, you will feel calmer and more relaxed! The spa offers several massage treatments that only use organic oils and herbs. We suggest combining them with a bath treatment, so you can get the full experience!
Address: 1384 Ang Mo Kio Ave 1, Singapore 569932

Opening Hours: Sun-Wed (10am-9pm), Thurs- Sat (10am–10pm)

Contact Number: +65 64566556
2. Espa at Resorts World Sentosa
One of the most luxurious massage parlours in Singapore, Espa feels the closest thing to paradise in the middle of a chaotic week. The scenery itself is a balm for the soul: lush hillsides, the calming sea. Then, when you walk in, you are given the complete spa experience. It has facials, massages, saunas with forest views, Japanese onsen pools, sleep zones, and even Zen gardens where you can meditate.
Resorts World Sentosa, 8 Sentosa Gateway, Sentosa Island, Singapore 098269
Opening Hours: Visit website for more details
Contact Number: +65 82989291
3. Banyan Tree Spa
Enjoy a relaxing massage with one of the best views of Marina Bay. This luxury Singapore spa draws from ancient healing remedies and natural herbs and spices and creates a relaxing ritual that helps you let go of the stress and centre yourself. We recommend the complete Sense of Space Treatment, which includes a body scrub, massage, a bath and a facial. It's definitely worth the splurge—by the time you leave, you'll feel like a whole new person.
Address: 10 Bayfront Avenue Tower 1, Level 55 Hotel Marina Bay Sands, Singapore 018956

Opening Hours: Mon-Sun (10am–11pm)

Contact Number: +65 66888825
4. The Thai Spa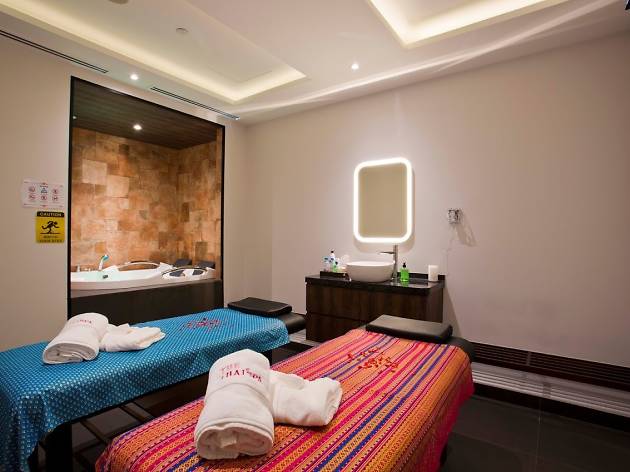 Nestled in Suntec city is one of the most popular massage parlours in Singapore . It's especially known for its couple massage, where you and your beloved can take a complimentary rose honey milk bath in a private jacuzzi before a one-hour traditional Thai massage. They also offer organic and herbal facials, body wraps, and other pampering treatments.
Address: Suntec City Mall, Tower 1, North Wing, Level 3, #324, 3 Temasek Boulevard, Singapore 038983

Opening Hours: Mon-Sun (11am-9.30pm)
Contact Number: +65 81828272
5. Away Spa at W Singapore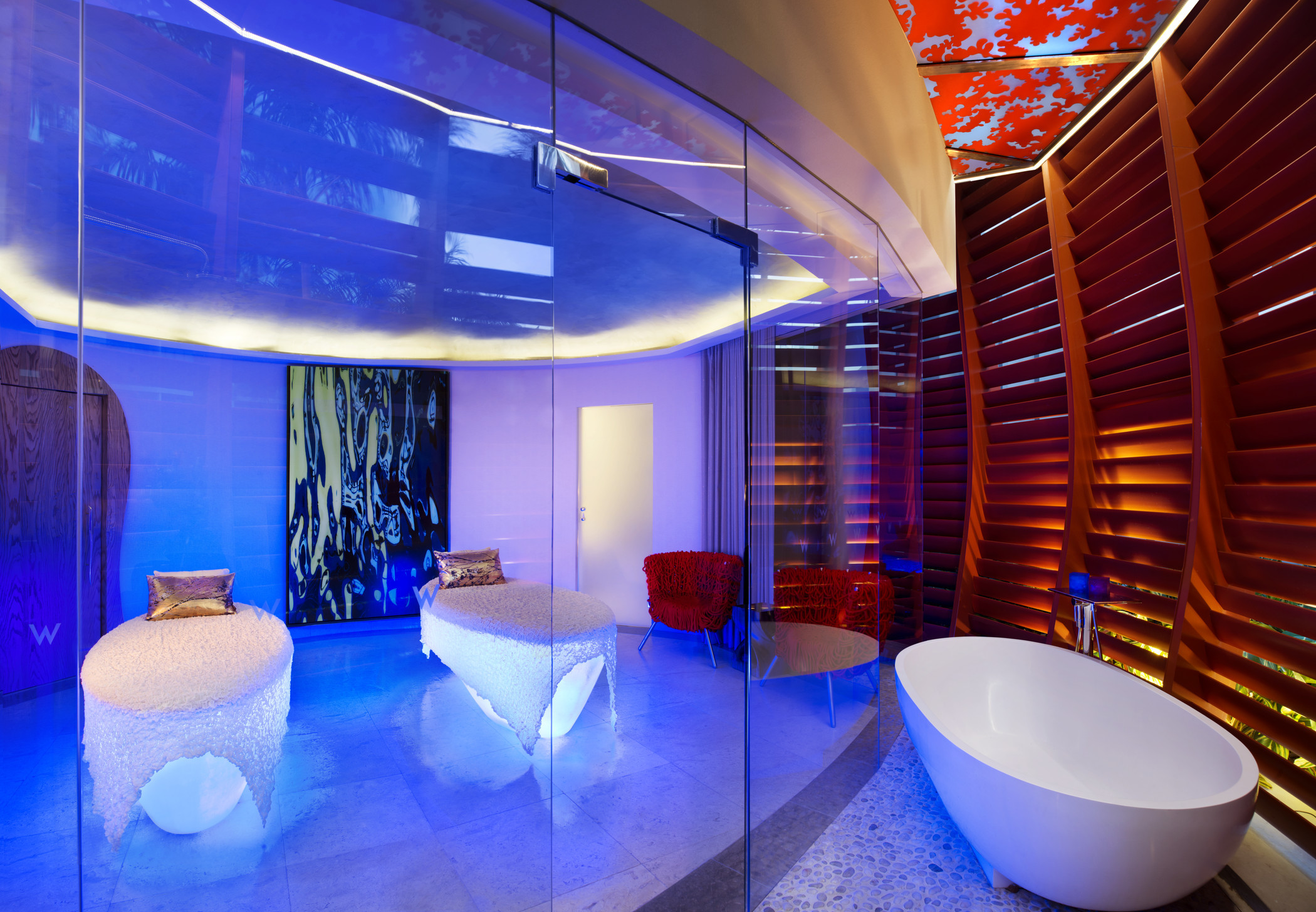 This is one of the coolest massage parlours in Singapore. The spa has a unique concept—instead of the Nature views or rustic interiors, it has a futuristic theme. Neon lights and modern furniture feel like you've stepped into a club, but it is oddly relaxing and calming. The spa offers massages and facials, and topnotch facilities like experiential showers, vitality pool, decompression area and more.
Address: 21 Ocean Way, Singapore 098374

Opening Hours: Mon-Sun (10am–10pm)

Contact Number: +65 68087290
6. Healing Touch Spa
This is one of the best massage Singapore centres! It has many glowing reviews on TripAdvisor and bagged several spa awards. One of the reasons that everybody loves them? They give such a good massage at such an affordable price. Their extensive spa menu includes deep tissue massage, acupressure massage, tension relief and other signature treatments for just $55 to $75 per hour. Be sure to try their Moxa Massage, which combines massage with heated Bian stones. Your stress will melt away!
Address: 1 Orchid Club Rd, #01-33A Orchid Country Club, Singapore 769162
Opening Hours: Visit website for more details
Contact Number: +65 67151515
7. Nimble/Knead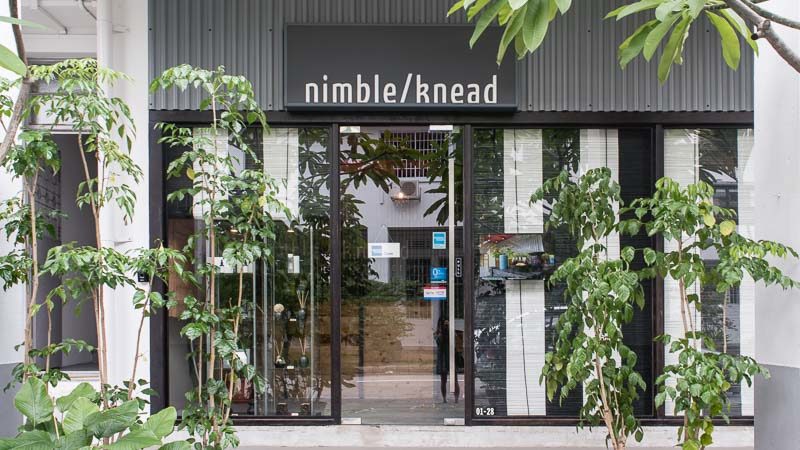 This charming spa repurposes shipping containers into a cosy (and beautifully decorated) sanctuary. Enter for a journey of the senses, as they combine skilful massage techniques with high-quality aromatherapy oils. You can pick from different kinds of massages – delightfully named Thai Thai Aroma, Destination Bali, Swede and Sassy, Tuinasaurus, and A Thousand Smiles in the Rising Sun – to suit your tastes. Each massage treatment costs $76 for an hour. They also offer body scrubs, body masks and facial treatments.
Address: 66 Eng Watt St, #01-28, Estate 160066

Opening Hours: Mon-Sun (11am–10pm)

Contact Number: +65 64383933
8. Ancient Dynasty Spa (Upper Thomson)
This Singapore massage centre believes that massage should be a routine, not a luxury. That's why they offer a flat rate of $50 for every full-hour massage. Choose from a deep tissue massage, a Swedish oil Massage, a shiatsu massage, or an oriental foot massage. You can also avail of additional treatments, like a body scrub for smoother skin or cupping therapy to balance your chi. They also offer ear candling.
Address: 5 Thong Soon Avenue, Springleaf Garden, Singapore 787433

Opening Hours: Mon-Sun (11am–2am)
Contact Number: +65 64584948
9. Le Spa
Named after the Chinese word lè (which means joy and fun), this is one of the best places to get an affordable massage in Singapore. Their one-hour massage only costs $66, and you even get a free dessert after your treatment. Add $20 for additional services, like gua sha or cupping, to your treatment. And she's not alone: Le Spa has a 4.3-star rating, so it's clearly one of the most popular places to get an affordable massage Singapore.
Address: 13 Mohamed Sultan Rd, Singapore 238962
Opening Hours: Mon-Sun (9:30am–10:30pm)
Contact Number: +65 62226806
10. NatureLand (Orchard Point)
The fast pace of city life can be physically, emotionally and mentally draining. Escape to the rustic interiors of NatureLand. The cobblestone and wood interiors help create the feeling of going back to simper, quieter times—even if you are still in the middle of the city. Its affordable massage Singapore treatments include body massages and foot reflexology, and the traditional tui na massage. Price for a full hour massage is $70 to $80, depending on the kind you get.
Address: 160 Orchard Rd, Singapore 238842
Opening Hours: Mon-Sun (9am–4am)
Contact Number: +65 62356780