We bet your is aching after spending hours sitting in front of your computer desk at work. We can hear your body screaming for a soothing and revitalising massage. Why not treat yourself with one this weekend? Wait, but before that, you need to know the best massage parlours in Singapore that offer a wide range of services carried out by professional masseurs around!
Well, don't worry about that because we got you covered. Yes, we went hunting around the island for the best massage spot and below Beauty Insider presents a list of the 25 best massage parlours in Singapore. Our guide here is handy in helping you pick the right treatment, and points you to some of the best spas on the island.
What is a Massage Therapy?
Massage therapy involves using several hand motions of stroking, pressing, kneading, and rubbing the skin or muscles. During the massage session, the therapist will apply pressure on certain body parts to relieve any soreness or pain. There are various types of massage that originated from different areas and they usually emphasize different objectives. Therefore, it is important that you select the most suitable type of massage depending on the intensity level, aims, or benefits that you wanted.
What are the Benefits Of Getting A Massage?
The biggest benefit of getting a massage is receiving that experience of deep relaxation and complete peace with oneself. It's therapeutic where you are unable to do nothing but relax and that's the best part of it really. Did you know, massages enable a bodily reaction that releases endorphins which helps us to feel better and soothes us. Moreover, getting a massage with prompt our stress hormone levels to drop in numbers- as if it slowly seeps out of us.
Additional benefits to gain are:
Reduces anxiety and pressure
Stimulates lymphatic system
Improving recovery from injuries towards soft tissue
Reduces muscle tension
Promotes endorphins production
Increase blood circulation
Boost immune system
---
Which Massage Is Right For You?
Therapeutic
This is the most common form of massages you'll find in massage parlours. This method of massage is designed to give you complete relaxation and promote blood circulation. This is best if you are under a lot of stress and need to flush it all out of your system.
Aromatherapy
Think ambience scents and mood lighting when you are figuring out if aromatherapy is the one for you. Massage parlours will implement essential oils with a fragrance that promotes therapeutic powers.
Reflexology
When people think of massages, they simply figure it's just touches and presses here and there. However, there are underlying techniques and deep knowledge of the human anatomy that goes into it. Reflexology massages focus on certain parts of our body through pinpoints. It may be a little painful but definitely worth it.
Hot Stone Massage
If you have been suffering from muscle soreness or tension, the hot stone massage is an ideal massage for you. It is quite similar to Swedish massage but as the name suggests it uses a heated stone and place it intentionally on certain body areas. The hot stone massage is known to induce relaxation, increase blood circulation and reduce muscle pain. Depending on the technique the therapist may even use cold stones instead of the regular heated stone.
Swedish Massage
Swedish massage is suitable for someone who has minor muscle tension, beginner or any individual that is sensitive to touch as it emphasizes relieving the muscle knots. The session usually lasts about 60 minutes to 90 minutes and it promotes relaxation. The massage therapist will use several combinations of techniques like tapping, kneading, strokes, circular motions and vibration.
Thai Massage
Thai massage is one of the most preferred massages as it requires more movements and stretching. It is suitable for those who want to improve their flexibility, increase energy levels, and relieve soreness. Thai massage is all about applying firm pressure and also it involves stretching into several positions that are similar to yoga.
Deep Tissue Massage
Deep tissue massage is suitable if you have chronic muscle tension, anxiety, or imbalance. It incorporates slow strokes and firm pressure to reduce the pain on the deepest layers of the muscle and tissues. Although its intensity levels are higher than other regular massages, it does not result in any pain or tension. However, you may want to opt for other types of massages if you're sensitive to touch or pressure.
Shiatsu Massage
Originated from Japan, the Shiatsu massage promotes relaxation, helps to reduce muscle tension and headache. Usually, the duration of the session is from 60 minutes to 90 minutes. The massage therapist will use rhythmic or pulsing pressure, in which they normally use their thumbs, palms, or even hands. Although Shiatsu massage is a whole body massage, you can inform the therapist beforehand of any specific muscle tension that you're experiencing.
Sports Massage
If you have sustained new or repetitive injuries due to sport, you might want to consider going for a sports massage. It does not only help to treat the existing conditions, but it is effective to release muscle tension, reduce anxiety and increase flexibility. The therapist may incorporate deep pressure and gentle strokes during the session. Besides, sports massage is another alternative to prevent the risk of having sports injuries.
Prenatal Massage
A prenatal massage is a suitable option for pregnant women as it focuses on using gentle pressure and it promotes relaxation. During the prenatal massage, the massage therapist usually emphasizes lower body parts like hips, back, and legs. A session will usually take about 45 minutes to 60 minutes and you can consult with your medical professionals before that to know any potential risks.
---
The Best Massage Parlours in Singapore To Relieve Your Stress Away
1. Aramsa Garden Spa
Tired of city life? Then escape into the garden sanctuary of Aramsa, set in the heart of Bishan Park. Each of the treatment rooms is nestled in individual courtyards, surrounded by lush greenery and cobbled paths. Even before you get a massage, you will feel calmer and more relaxed! The spa offers several massage treatments that only use organic oils and herbs. We suggest combining them with a bath treatment, so you can get the full experience!
For more information & to book a visit, click here
2. Espa at Resorts World Sentosa
One of the most luxurious massage parlours in Singapore, Espa feels the closest thing to paradise in the middle of a chaotic week. The scenery itself is a balm for the soul: lush hillsides, the calming sea. Then, when you walk in, you are given the complete spa experience. It has facials, massages, saunas with forest views, Japanese onsen pools, sleep zones, and even Zen gardens where you can meditate.
For more information & to book a visit, click here
3. Banyan Tree Spa
Enjoy a relaxing massage with one of the best views of Marina Bay. This luxury Singapore spa draws from ancient healing remedies and natural herbs and spices and creates a relaxing ritual that helps you let go of the stress and centre yourself. We recommend the complete Sense of Space Treatment, which includes a body scrub, massage, a bath and a facial. It's definitely worth the splurge—by the time you leave, you'll feel like a whole new person.
For more information & to book a visit, click here
4. The Thai Spa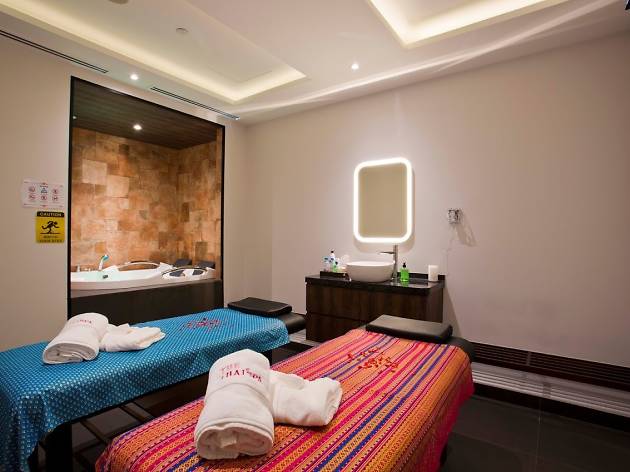 Nestled in Suntec city is one of the most popular massage parlours in Singapore . It's especially known for its couple massage, where you and your beloved can take a complimentary rose honey milk bath in a private jacuzzi before a one-hour traditional Thai massage. They also offer organic and herbal facials, body wraps, and other pampering treatments.
For more information & to book a visit, click here
5. Away Spa at W Singapore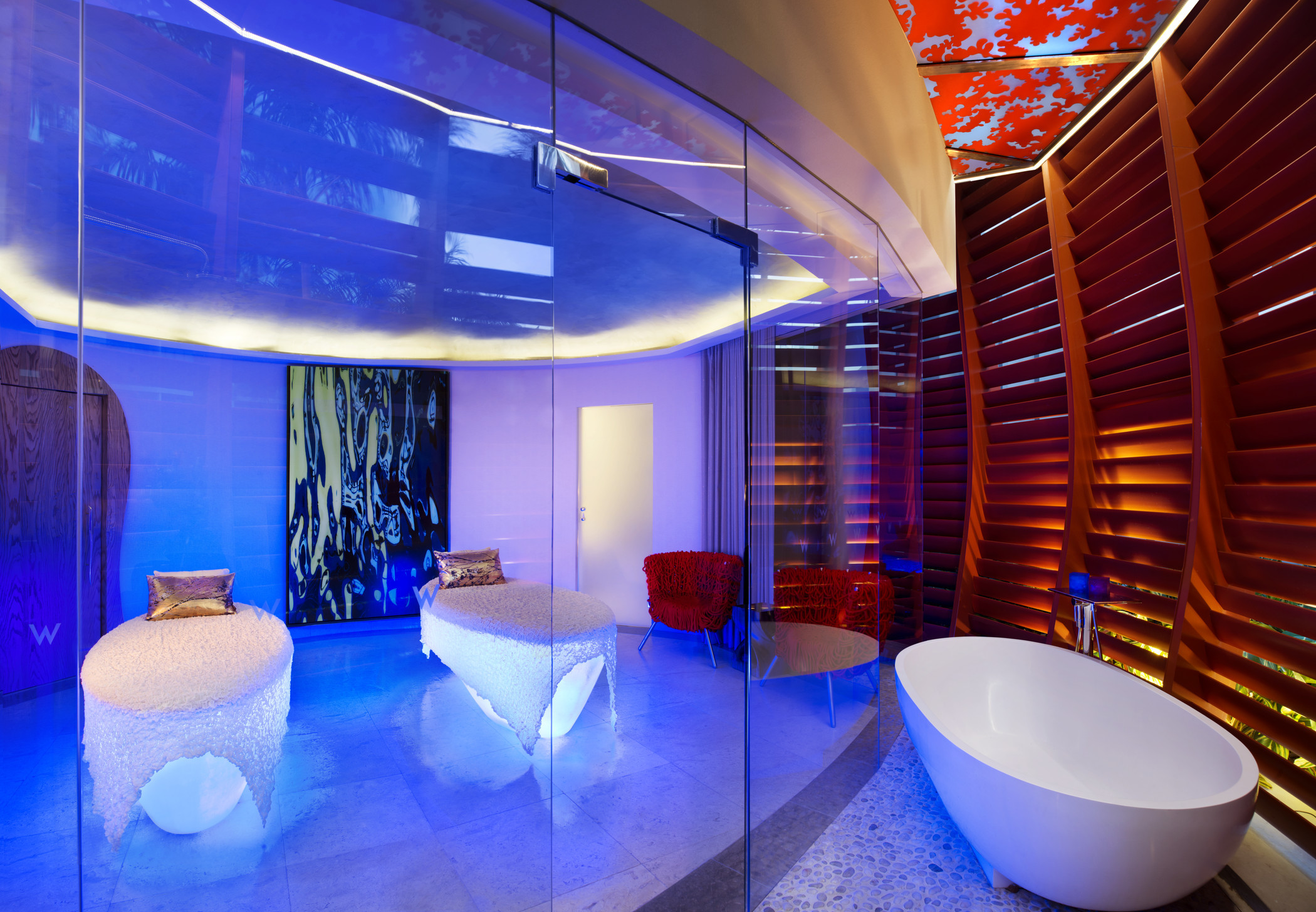 This is one of the coolest massage parlours in Singapore. The spa has a unique concept—instead of the Nature views or rustic interiors, it has a futuristic theme. Neon lights and modern furniture feel like you've stepped into a club, but it is oddly relaxing and calming. The spa offers massages and facials, and topnotch facilities like experiential showers, vitality pool, decompression area and more.
For more information & to book a visit, click here
6. Healing Touch Spa
This is one of the best massage Singapore centres! It has many glowing reviews on TripAdvisor and bagged several spa awards. One of the reasons that everybody loves them? They give such a good massage at such an affordable price. Their extensive spa menu includes deep tissue massage, acupressure massage, tension relief and other signature treatments for just $55 to $75 per hour. Be sure to try their Moxa Massage, which combines massage with heated Bian stones. Your stress will melt away!
For more information & to book a visit, click here
7. Nimble/Knead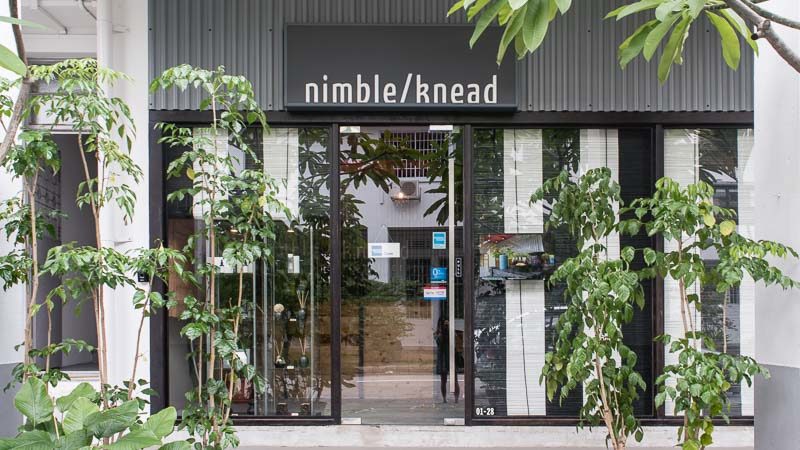 This charming spa repurposes shipping containers into a cosy (and beautifully decorated) sanctuary. Enter for a journey of the senses, as they combine skilful massage techniques with high-quality aromatherapy oils. You can pick from different kinds of massages – delightfully named Thai Thai Aroma, Destination Bali, Swede and Sassy, Tuinasaurus, and A Thousand Smiles in the Rising Sun – to suit your tastes. Each massage treatment costs $76 for an hour. They also offer body scrubs, body masks and facial treatments.
For more information & to book a visit, click here
8. Ancient Dynasty Spa (Upper Thomson)
This Singapore massage centre believes that massage should be a routine, not a luxury. That's why they offer a flat rate of $50 for every full-hour massage. Choose from a deep tissue massage, a Swedish oil Massage, a shiatsu massage, or an oriental foot massage. You can also avail of additional treatments, like a body scrub for smoother skin or cupping therapy to balance your chi. They also offer ear candling.
For more information & to book a visit, click here
9. Le Spa
Named after the Chinese word lè (which means joy and fun), this is one of the best places to get an affordable massage in Singapore. Their one-hour massage only costs $66, and you even get a free dessert after your treatment. Add $20 for additional services, like gua sha or cupping, to your treatment. And she's not alone: Le Spa has a 4.3-star rating, so it's clearly one of the most popular places to get an affordable massage in Singapore.
For more information & to book a visit, click here
10. NatureLand (Orchard Point)
The fast pace of city life can be physically, emotionally and mentally draining. Escape to the rustic interiors of NatureLand. The cobblestone and wood interiors help create the feeling of going back to simper, quieter times—even if you are still in the middle of the city. Its affordable massage Singapore treatments include body massages and foot reflexology, and the traditional tui na massage. The price for a full hour massage is $70 to $80, depending on the kind you get.
For more information & to book a visit, click here
11. Feet Haven Reflexology
Founded in 2011, Feet Haven Reflexology is a hidden secret amongst the locals who seek hidden getaway. They offer a wide range of services ranging from foot reflexology, shoulder massage, and full body massage. This award winning massage parlour is known for its high-quality service and treatments. Their staff will go the extra mile to ensure that you obtain the ultimate relaxation. We suggest that you try out the $88 Extra Shiok Combi Therapy which comprises 60 minutes of foot reflexology and body massage respectively.
For more information & to book a visit, click here
12. Sabaai Sabaai Traditional Thai Massage
If you have been searching for the best massage parlours in Singapore that offer traditional Thai massage, look no further because Sabaai Sabaai Traditional Thai Massage is the best. With its tranquil ambiance and fragrant scents, it will vanish all your worries away once you step into the place. The Thai Aroma Massage is perfect if you want to awaken your sense with a blend of essential oils. We also suggest the Thai Signature Massage which emphasize on relieving the muscle pain.
For more information & to book a visit, click here
13. Fhysio
Founded by Shaun Toh, Fhysio offers personalized massage treatments and physiotherapy depending on the client's conditions. Before the session, they will examine and determine the most suitable massage to ensure optimal results. The starting price for personalized massage therapy for one hour is about $160, $210 for 90 minutes, and $270 for 120 minutes. On top of that, they also offer sports massage and deep-tissue massage.
For more information & to book a visit, click here
14. Imperial Spa
With its highly skilled massage therapists and comfortable ambiance, Imperial Spa delivers an ultimate pampering session. At Imperial Spa, you can find several types of massages like Swedish Imperial Therapy, Imperial Reflex Therapy and Royal Hot Stone Therapy. If you prefer a quick session that is affordable, we recommend the half-hour session of Swedish Imperial and Qi Renewal which costs about $43.
For more information & to book a visit, click here
15. Ikeda Spa
With 4.7 star ratings on Google, Ikeda Spa has been on top of the list for those who prefer Japanese massages and treatments. The interior was aesthetically designed in Japanese inspired setting and it has a serene atmosphere that will help to refresh your mind. Its signature treatment, Ganbanyoku Detox Massage is a must-try treatment as it is unlike anything you've experienced before. During the session, you will lie on a Ganbanyoku hot stone bed and a blend of essential oils will be applied to your body. It is a combination between a massage and a sauna. The estimated price for an hour is $190 and $230 for 90 minutes.
For more information & to book a visit, click here
16. Squeeze
Have you ever wanted a quick session of massage during a lunch hour? Well, you can with Squeeze! They offer different types of massages like foot, full body, and personalized. We suggest that you try out the Express Massage which only costs $39 for 20 minutes session. However, if you prefer a full session, you can opt for the All-in-One Massage, in which you can customize it based on your preference and 60 minutes session is about $79.
For more information & to book a visit, click here
17. NING Spa
NING Spa offers treatments that are a combination between oriental and contemporary for optimal results. Plus, it was highly raved by locals for its highly experienced therapist and comfortable atmosphere. They are known to provide world class treatment at an affordable price. You can opt for the award-winning detox massage, Rejuvenating Therapy which delivers a comprehensive treatment by using hot stones, thermal blanket treatment and it also includes a foot massage. A session will costs you about $150 for an hour. Trust us, after the session ended, you will feel more refresh and energetic.
For more information & to book a visit, click here
18. St. Gregory Spa
Relax into the oasis-like to experience true tranquility and peace at St. Gregory Spa! As part of the exclusive facilities at Pan Pacific Collection or at Park Royal Hotels, choose from traditional healing therapies such as Ayurveda, Traditional Chinese Medicine, Javanese, Thai and Traditional Myanmar – where each therapy is done backed with science, research, and philosophy to relieve overall ailments and refresh the whole body. Get your massage done with your preferred pressure and emphasise on certain areas and leave the room with a recommendation for your masseuse on how to improve your wellbeing, too!
19. Healspa
Healspa is one of the best and affordable massage parlours in Singapore. They aim to provide natural wellness and therapies to their clients without breaking the bank. Their therapies were developed based on the foundation of Tradiotional Chinese Medicine. So, if there's a particular area of your body you want to get rid of the knots and de-stress after a busy day or week, they can help provide the needed relief your body needs.
20. Yunomori Onsen and Spa
Combining both Japanese onsen therapies and Thai spa massage traditions, have a relaxing dip and massage at Yunomori Onsen and Spa! Aside from their relaxing massage therapies, detoxify and unwind in their warm waters filled with nutrients and minerals to heal the body. Alternatively, you can also submerge yourself in their ice cold waters to stimulate the nerve endings, tighten the skin, and relax the muscles after a strenuous workout.
21. Passage New York
If you're looking to pamper your skin from head to toe, head on over to Passage New York! The ladies-exclusive spa is built with opulent surroundings for a luxurious feel while you indulge in their facial treatments and body massages. The boutique spa specialises in premium facial and body treatments that will revitilise, detoxify, and relax your skin, making you forget all about your worries and stress once you step out.
21. G.Spa
The only spa that can accommodate you for 24 hours – G.Spa! The nature-inspired spa lets you indulge in different treatments and spa facilities no matter what time of the day or night to let you de-stress, balance out your energy, and take care of you – physically and mentally. They have in-house warm or cold waters to let you soak in and a variety of head-to-toe spa treatments to enjoy.
22. Spa Espirit
The apothecary spa houses their own blend of aroma oils and special massage therapies. The homegrown's original oil blends are a must-try, incorporated in their massage therapies. Enjoy a contemporary and high-quality massage at a reasonable price that will definitely be worth it. Try their Super Vibrator, a unique, new-age therapy that heals your energy from inside and out.
23. Moomin
If your main concern is related to your sleep, mentality, and even your head – Moomin is the perfect place to be. As the country's first Deep Sleep Dry Head Massage place, its primary goal is to provide a relaxing relief for brain fatigue, insomnia, migraines, and headaches. From your scalp to your stiff shoulders, the right pressure helps with blood circulation and releases toxins built up in the muscle tissues.
24. My Cozy Room Boutique Spa
From maskne to stiff back muscles, trust My Cozy Room to deliver and provide you with the perfect solution to your skin problems and issues. It's no surprise they're one of the best massage places in Singapore, despite being known for their facials mostly. Their body treatments are also a must-try especially the Premium Diamond Bacial Treatment which provides a high-quality massage while detoxifying it to keep it soft and smooth.
25. Remede Spa
Pamper yourself in luxury once you step inside Remede Spa! A true definition of a modern sanctuary located at St. Regis that offers facial and below-the-neck treatments to refresh and rejuvenate you. Aside from that, their manicure-pedicure treatments are not one to miss! Using only high-quality and premium products to give you the best spa experience that will have you coming back each time.
Make sure to follow Beauty Insider on Instagram and Facebook for the latest update!