Skincare
Just Got Your Lashes Done? These Are The Best Cleansers To Use After Lash Extensions
Giving the longevity it deserve
By: Beauty Insider Journalist / May 13, 2023
Ensure the longevity of your precious lash extensions by giving them the care they deserve.  Over time, dead skin cells, debris, makeup, and oil can accumulate in your lash line, compromising the connection of your lash extensions and leading to premature fallout. 

To preserve the strong bond between your natural lashes and extensions, it's crucial to keep the lash extension glue clean. Beauty Insider is here to guide you through the best cleansers for maintaining and cleaning your face with lash extensions.
9 Best Cleansers For Eyelash Extensions
Why should you clean them?
Many individuals believe that keeping their lash extensions away from water would keep them in place longer. In fact, this is false and has the opposite effect! When you don't clean your lash extensions, they will fall out early.
Yes, avoid water for the first 24 hours or as directed by your lash specialist, but it doesn't mean you can't get them wet at all! Therefore, cleansing is an absolute must.
What happens when you don't cleanse them properly?
It's essential to keep your lash extensions clean. Cleaning your lashes improperly or not at all may cause numerous issues. As a result, improper cleansing can result in your lashes not lasting as long as they should. Additionally, infections, irritations, poor lash health and even lash mites can all result from not cleaning often or appropriately.
When should you clean your lashes?
If you wear eye makeup or have oily skin or eyelids, you should clean your lash extensions at least every other day, if not every day. After swimming, working out at the gym, or applying sunscreen; clean your lash extensions. As a result, chlorine, salt, perspiration, and oils should be removed from lash extensions as soon as possible to preserve the lash adhesive's integrity.
Do's and don'ts for lash extensions
Use a foam cleanser (specific for lashes are bonuses!)
To preserve the eye and lash health, use specialised lash extensions foamy cleansers to guarantee you're getting an anti-bacterial solution on your lashes. Using a lash-specific cleanser can help you avoid glycols, oils, and other lash-related grime that are commonly present in face cleansers.
Do avoid products containing oil around your eyes
Avoid using any oil-based products near or on your eyes. Cleansers, moisturisers, cleansing oils, eye creams, and yes, even cosmetics fall into this category. If you're using cleansers that aren't suitable for lash extensions, make sure to wipe the cleanser off your face rather than rinsing it off, as any leftover substance will wash into your lash extensions.
Do not clean your makeup with wipes
When using lash extensions, avoid using makeup remover wipes. They're packed with noxious oils, glycols, and emollients that lash extensions despise, causing them to come out prematurely. When using cosmetic wipes, they won't last very long. Makeup wipes, in general, are not a healthy technique to wash your face since they leave residue on your skin.
Don't excessively rub your eyes when cleansing
When cleaning your eyes, avoid excessive rubbing. Only use gentle fingertip pressure to clean your lash extensions with cleansers. Rubbing too hard might result in premature lash loss as well as roughened or damaged natural lashes. It just takes a little to harm your lashes, so always be careful!
Cleansers For Eyelash Extensions
1. Etude House SoonJung pH 6.5 Whip Cleanser
The Etude House SoonJung pH 6.5 Whip Cleanser is made up of 98.9% organically sourced components and is designed to wash skin gently. Panthenol, a skin-beneficial chemical linked to Vitamin B5, hydrates the skin deeply. In the meanwhile, Madecassoside, a compound produced from Centella Asiatica, helps to heal skin damage. This cleanser utilises few chemicals and thick foam to thoroughly wash and soothe sensitive skin.
Why we love it:
Soothing and gentle
Lowers your skin's pH
Price: $21.00
Where to buy: Etude House
2. iUNIK Centella Bubble Cleansing Foam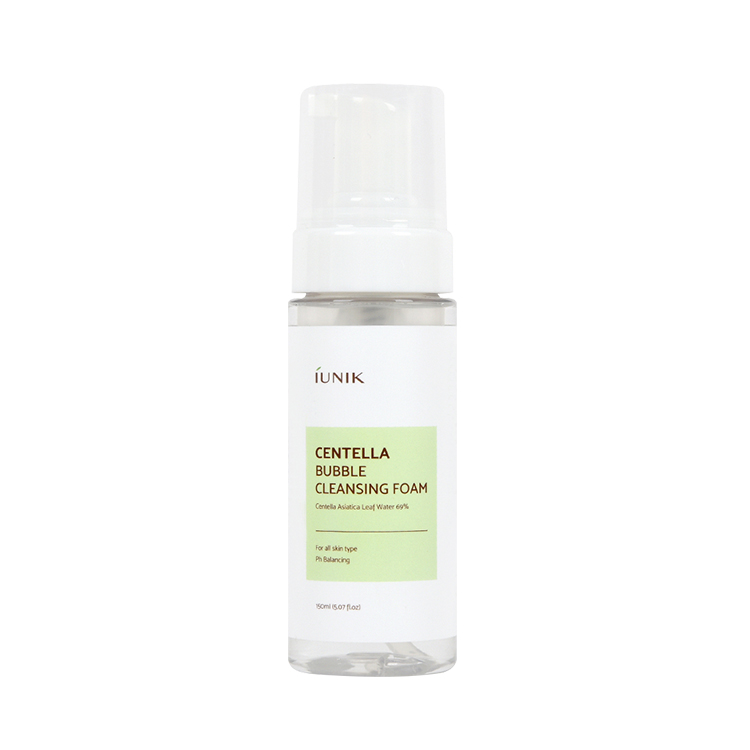 The iUNIK Centella Bubble Cleansing Foam is a gentle, pH-balanced cleanser that removes pollutants while also moisturising the skin. Contains 69% Centella Asiatica Extract Water, tea tree leaf water to relieve sensitivity, and other botanical ingredients to protect and renew the skin. It removes dead skin with a gentle foam cleanser and hydrates your skin without leaving it feeling dry.
Why we love it:
Contains Centella and tea tree leaf water
Moisturising and calming
Price: $24.90
Where to buy: Shopee
3. AIKEN Prebiotic Hydra Plus Cleanser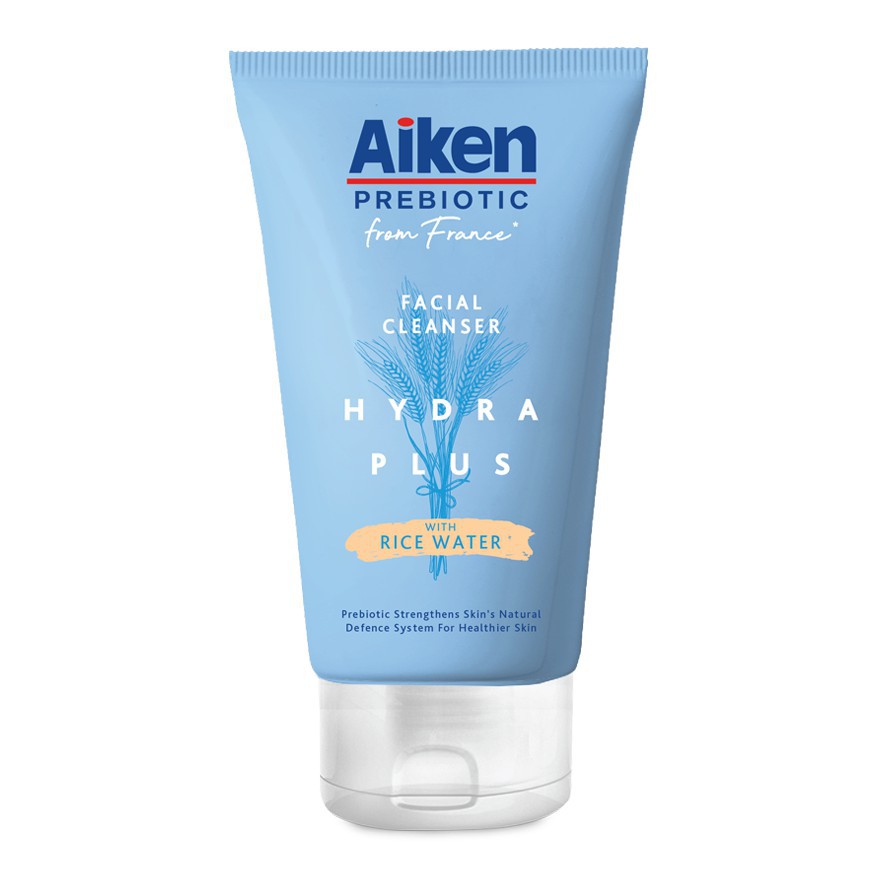 The AIKEN Prebiotic Hydra Plus Cleanser contains prebiotics from France and rice water from Korea, both of which have been scientifically proved to remove contaminants. This pH-balanced solution washes deeply without drying out the skin. It encourages the growth of skin-friendly bacteria, which improves skin smoothness and brightness naturally and strengthens the skin barrier function for healthier skin. It makes the skin soft and plump.
Why we love it:
Affordable and effective
Promotes skin-friendly bacteria growth
Price: $10.59
Where to buy: Shopee
4. CeraVe Hydrating Cream-to-Foam Cleanser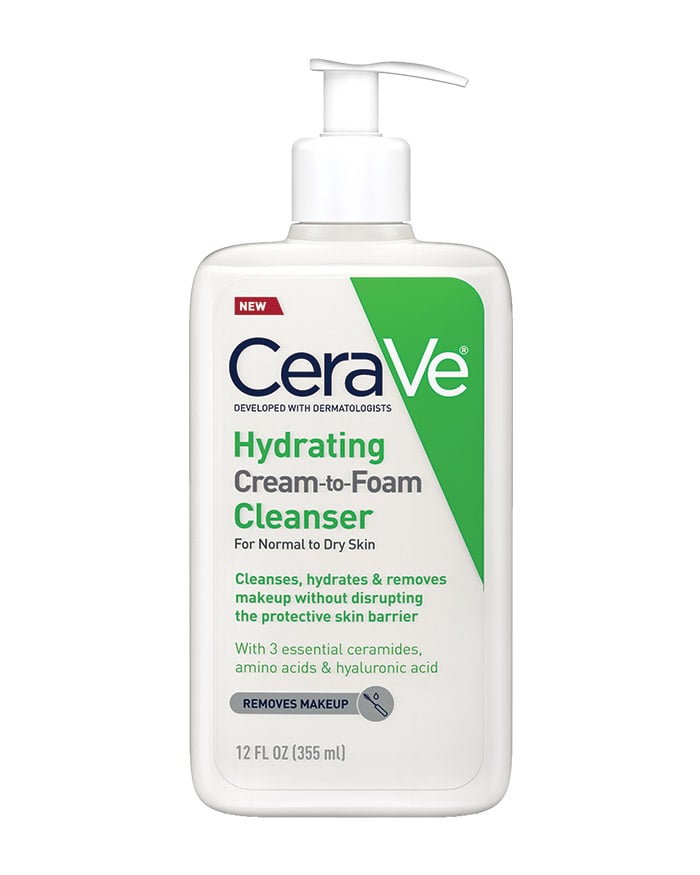 This cleanser efficiently removes makeup, grime, and excess oils from the face on a regular basis. As you lather the CeraVe Hydrating Cream-to-Foam Cleanser into your skin with water, it converts from a rich cream to a light foam. This mild fragrance-free solution was developed by dermatologists.
Additionally, it contains three important ceramides, hyaluronic acid, and amino acids. As a consequence, the skin barrier is maintained, and moisture is locked in for long-term hydration.
Why we love it:
Formulated with ceramides, hyaluronic acid and amino acids
Strengthens your skin barrier
Price: $33.00
Where to buy: Shopee
5. Farmacy Green Clean Makeup Meltaway Cleansing Balm
Farmacy Green Clean Makeup Meltaway Cleansing Balm might be the best cleanser for lash extensions in Singapore. This non-greasy balm effortlessly removes dirt and preserves the beauty of your eyelash extensions. Its gentle formula, enriched with sunflower and ginger root oils, swiftly dissolves makeup, leaving behind a nourished and glowing complexion. Experience purified and refined skin with improved tone. With its economical usage and sustainability compared to single-use makeup remover wipes, this cleansing balm is an eco-friendly choice. Elevate your cleansing routine and ensure the longevity of your lash extensions with Farmacy Green Clean. Get the ultimate care for your lashes in just under 30 seconds!
Why we love it:
Balm-texture
Nourishes and improves skin complexion
Easily remove dirt
Price: $72.60
Where to buy: Amazon SG
6. Innisfree Green Tea Cleansing Water
Uncover the amazing advantages of Innisfree Green Tea Cleansing Water, a go-to among both makeup experts and rookies. This amazing washing water eliminates makeup simply and delicately, renewing and invigorating your skin. Surprisingly, all it takes to remove a full face of makeup is a few swipes with one or two cotton swabs. It effectively nourishes your skin, keeping it smooth and radiant, and is made with a special blend of green tea enhanced with 16 extra amino acids. Embrace a dewy complexion that goes well with your eyelash extensions, and bid dryness farewell. The ideal companion for any makeup enthusiast, the Innisfree Green Tea Cleansing Water reveals the trick to simple makeup removal and skin vitality.
Why we love it:
Renews and repairs skin complexion
Nourishes and moisturises
Leaves the skin looking smooth and radiant
Price: $38.79
Where to buy: Distacart
7. Shiseido Refreshing Cleansing Water
Shiseido Refreshing Cleansing Water, the best water-based cleanser created to effectively remove dirt, pollutants, and excess oil in a single swipe, has profound power. This extraordinary solution cleanses and preserves your skin's natural equilibrium, leaving it moisturised and rejuvenated without feeling tight. It is an ideal option for gentle makeup removal because it is oil-free, alcohol-free, and non-comedogenic, especially for people who have eyelash extensions. Experience Shiseido Refreshing Cleansing Water's mild yet powerful cleansing action to reveal a refreshed, vibrant complexion. Enjoy the elegance and convenience of this makeup remover, which has been skilfully made to meet your skin's needs.
Why we love it:
Effectively removes dirt and impurities
Non-comedogenic
Hydrating formula that helps retain moisture
Price: $40
Where to buy: Shiseido's e-store
8. Banila Co. Clean It Zero Original Cleansing Balm
The amazing Clean It Zero Original Cleansing Balm from Banila Co. was formulated especially for people who use eyelash extensions. With ease, the special "sherbet" solution eliminates makeup without harming the adhesive that secures your eyelashes. Besides, it removes makeup, refines pores, and moisturises the skin. Prepare yourself to be impressed by the thorough yet gentle cleansing process that leaves your skin feeling renewed and invigorated. With this ground-breaking cleaning balm, learn the trick to seamless makeup removal and take advantage of the benefits of tighter pores and hydrates the skin. Reduce the complexity of your skincare routine to bring out the best in your eyelash extensions.
Why we love it:
Balm texture
Easily removes makeup
Refines pores and hydrates skin
Price: $30.73
Where to buy: iHerb
9. Garnier Skinactive Micellar Cleansing Water For All Skin Types
Garnier Skinactive Micellar Cleansing Water is one of the best cleansers for eyelash extensions. With its gentle yet effective formulation, this extraordinary product effortlessly lifts away dirt, oil, and makeup without harsh rubbing or over-drying. Ideal for your long and fluttery extensions, it is oil-free, alcohol-free, and fragrance-free, ensuring a delightful experience. Embrace the perfect combination of effectiveness and skin-friendly with Garnier Skinactive Micellar Cleansing Water. Elevate your makeup removal game and enter the secret of effortlessly pristine lashes.
Why we love it:
Gentle to the skin
For all skin types
Easily removes dirt and makeup
Price: $34.14
Where to buy: Amazon SG
Make sure to follow Beauty Insider on Instagram and Facebook for the latest updates!