It goes without saying that eyebrows can make or break any look. Look to Cara Delevingne and Lilly Collins as the archetypal example of what defined eyebrows can do for any look! With that being said, unkempt eyebrows are never a good look. Even though it is best to leave your brows to the professionals, keeping them trimmed from time to time can be the solution to keeping your #onfleek brows in check. Here is Beauty Insider's complete guide to the know-hows of brow trimming so that you can trim your eyebrows on your own!
Let Them Grow Out
Leaving your eyebrow hairs alone may be annoying and we understand the urge of plucking them all too much. However, continuously plucking your brows can lead to a case of overplucking, which often results in overly thin and not-so-cute brows.
That is why it is important to let your eyebrow hairs grow out! It allows you to better see your natural brow shape while keeping your eyebrows looking thicker and fuller! Many brow experts recommend waiting at least six to eight weeks before trimming them away.
For fans of those thick Cara Delevingne brows, try using brow serums. They work to stimulate hair growth thanks to its unique blend of vitamins and essential oils. Plus, they soothe and moisturise the brow hairs too! The Revitalash RevitaBrow Advanced Eyebrow Conditioner is our go-to for healthier-looking brows.
Prepare Your Tools
Before getting started, you need more than just scissors or tweezers. To trim your eyebrows, here are the tools that will come in handy.
A Spoolie
This is what's on the other end of your eyebrow pencil. If you aren't familiar with it, a spoolie is sort of a brush that helps comb your eyebrow hairs. Besides that, it also helps blend out the product you apply onto your eyebrows. So, dig around your makeup bag and get out your trusty spoolie! If you prefer, you can also buy a spoolie on its own if you don't want the classic 2-in-1 eyebrow pencil and spoolie.
Eyebrow Scissors
Your eyebrows are a face-framing feature. So, you need to be gentle and delicate. Please, do not use just any scissors. Avoid using kitchen or craft scissors. Not only are they too big, but could cause mishaps. Also, steer clear of cuticle scissors because they are curved. These could end up making some of your eyebrow hairs longer than others. Eyebrow scissors are the only tool to use for your eyebrows.
Tweezers
Lastly, have a pair of tweezers on hand. These are handy when doing any type of eyebrow grooming. They can be precise and pick out individual hairs. Tweezers are also great for picking out strays before you start trimming.
Map Out Your Eyebrow Shape
Before diving into the trimming process, it is best to map out your natural eyebrow shape first to allow you to reach full brow potential!
A general rule of thumb is to hold an eyebrow pencil vertically from the middle of the nostril to mark out the beginning of the eyebrow. Then, pivot the pencil to the outermost corners of the eyes to mark out the tail of the eyebrow. After that, you are all set to go in for the trim! For a step-by-step guide to mapping out your eyebrow shape, this YouTube tutorial may come in handy for you!
Wishtrend TV also came up with a handy guide to what the best eyebrow shapes are for each face shapes!
If you struggle with having sparse eyebrows, filling in your eyebrows is a great alternative as it allows you to identify your brow's natural shape. Just take your nifty eyebrow pencil and lightly mark out the outlines of your eyebrows! Pro tip: Use a stencil to guide you while you mark your eyebrows for better accuracy!
Brush Your Eyebrows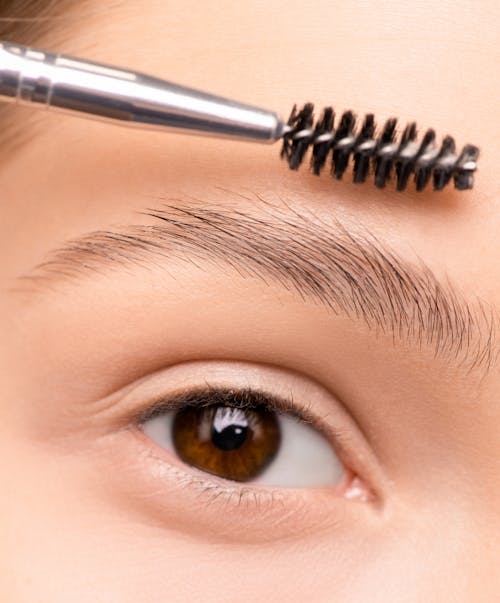 Before you start trimming, brush your eyebrows with a spoolie to get a good look at where you need to trim. Remember to brush upwards lightly to avoid any unexpected gaps. Brushing your eyebrows upwards help you see hairs that have grown above your eyebrow line. These are the hairs that you should trim. These hairs should also be quite noticeable. After brushing your eyebrows upwards, you'll probably also notice all the sparse or shorter hairs that are below your eyebrow line.
Use A Facial Oil
Plucking your eyebrow hairs can prove to be a pain (literally) as the process can be rather harsh on the skin. In order to combat this, apply your favourite facial oil and rub it all over your brow bone! This will lubricate the brow hairs for easier plucking and minimal pain! What's more, it helps to prevent hair breakage as well. The Pixi Rose Oil Blend is our best pick as it works to soothe the skin thanks to its unique blend of botanical oils.
Tweeze
Get your handy tweezers on standby to get rid of those unruly hairs! First, stretch out your skin lightly with your non-dominant hand. Then, pluck out any stray hairs right below your brows in the direction of the hair growth. Brow experts swear by using slanted edged tweezers instead of pointed edged one for extra precision. The award-winning Tweezerman Ultra Precision Slant Tweezer is the editor's choice of tweezers to pluck out even the tiniest of brow hairs.
If you are having trouble tweezing, pluck your eyebrows right after a warm shower! A warm shower can open up your pores and hair follicles, which allows your brow hairs to slide out of your skin much more easily! Moreover, it allows for a painless tweeze, especially for those who have sensitive skin.
Pro tip: Avoid using magnifying mirrors as they can often trick you into thinking there are more hairs that need to be plucked than there actually are. This usually leads to overly thin eyebrows.
Trim
After plucking our your eyebrow hairs, it is time to get down to the actual trimming! Brush the eyebrow hairs up with a handy spoolie before trimming the longer hairs off. This will even out the length of the eyebrow hairs at the beginning of the brow. Then, brush the eyebrow hairs downwards at the arch and tail of the eyebrow and trim off the longer hairs. Do not use regular scissors and opt for eyebrow scissors with curved ends for a swift trim!
If you need a visual, YouTuber Canela Trigueros has got you covered on this useful step-by-step tutorial.
Shave Off The Excess Hairs With A Razor
For the final step, pull out a razor for that precise and clean shave! All you need to do is to scrape the excess stubble below the brow bone in the direction against the hair growth. After that, scrape the top of the eyebrow in a downward motion until you meet your eyebrows.
Apply Aloe Vera
Experiencing itchiness and redness after tweezing? Reach out for aloe vera gel to calm your irritated skin! Aloe vera gel has been touted for its soothing and cooling properties, making this the perfect tool for handling irritated skin! Our must-have is the cult classic Nature Republic Soothing & Moisture Aloe Vera 92% Soothing Gel.
Fill In Any Spots
If you find any sparse spots, you can always trust in a brow pencil to fake fuller and thicker brows. Create light strokes to feather in some hairs before combing your eyebrows with a spoolie or a clear brow gel. With that, you are finally ready to show off your on fleek brows to the world.