The idea of waking up to a clump of hair on your pillow might seem like a terrifying nightmare, but the unfortunate reality is that hair fall is a common problem that can occur at any unsuspecting time. Now, meet the hair tonic — your new lifesaver. Be it luscious locks or a healthy scalp, you can count on this miracle worker to work its magic on your hair and scalp!
Ahead, Beauty Insider gives you the lowdown of the know-hows of using a hair tonic to restore your hair to its former glory. Even the hot and humid climate in Singapore will be no match for your gorgeous tresses.
What is a Hair Tonic?
Like a at-home DIY hair treatment, hair tonics work to nourish you scalp and hair to ensure your crowning glory is kept healthy and well-maintained. In the past, these bad boys were used as hair styling tools before the surge of styling gels and mousse came into play.
Now, the market is flooded with a slew of hair tonics that come with a multitude of benefits from moisturising to styling. So whether you are looking to add a little extra oomph to your hair or resolve your thinning hair woes, there is sure to be a hair tonic that will save your scalp and hair.
How to Use a Hair Tonic?
The best part about using a hair tonic is that it is completely fuss-free! All you have to do is to pour a few drops of product onto your palms before rubbing your hands together. Then, apply the hair tonic onto the crown of your head and massage the product into the scalp to stimulate blood circulation. You can also apply a few drops of hair tonic onto your hair to moisturise any frizzy ends. Check out this in-depth guide on how to use a hair tonic here.
Who Should Use a Hair Tonic?
The good news? Anyone can use a hair tonic — given that you do not have any serious allergies! As long as you are on the hunt for a glossier and healthier coiffure, you should consider adding a hair tonic to your beauty arsenal.
What's more, if you have struggled with a greasy scalp or an extra parched scalp, a hair tonic might just be the answer to resolving your scalp concerns!
What Are The Benefits of Hair Tonic?
1. Helps to Repair Damaged Hair
The pursuit for smooth tresses is one that is seemingly never-ending, especially if you are one who is in a constant battle with frizz. If you are one such beauty aficionado who needs to get rid of frizzy split ends, a hair tonic is the answer to your prayers.
Thanks to its moisturising powers, hair tonics help to replenish any loss moisture into the hair and fix brittle follicles. Plus, they work to strengthen your hair's ability to retain moisture, resulting in stronger and healthier hair in the long run.
2. Protects Your Scalp from Dandruff
If you have always been one who has struggled with dandruff, your dry scalp is to blame. With that, a hair tonic might just be your new best friend in keeping your scalp affairs in check. These bad boys can do wonders in lubricating even the driest of scalps, giving your scalp the moisture it needs to banish any dandruff for good!
Pro tip: Apply a hair tonic right after you blow-dry your hair. The heat from the blowdryer will open up the pores in your scalp, which enhances product penetration into the scalp.
3. It is Great for Styling Your Hair Too!
Hair tonics have cemented their place as the go-to hair styling tool in the '60s and it is not going out of style anytime soon. The oils in hair tonics have been touted for its ability to hold the hair in place, which allows you to shape and style your hair with ease!
After massaging the hair tonic into your scalp, you can dab a tiny drop of product onto your hair before lathering your mane with hair tonic. Avoid using too much as it can leave your hair looking more greasy instead of glossy.
What are the Side Effects of Hair Tonic?
Hair tonics do not impose any side effects however most people may find that the scent is quite strong. Besides, if you're using prescription hair tonic for hair growth, it is recommended that you consult the physician on the side effects prior to using it.
What is the Difference between a Hair Oil and Hair Tonic?
Just like hair tonics, it comes as no surprise that hair oils have infiltrated our beauty arsenals. However, a hair tonic and hair oil are often confused with each other — and we can't blame you. After all, they both work to nourish the hair. So what is the difference exactly?
First things first, hair oils are primarily used as a moisturising treatment to repair any frizz. While hair oils work to nourish and moisturise your mane, hair tonics work to not only moisturise your hair, but also promote hair growth by stimulating the scalp. Plus, hair tonics also boast other benefits which include controlling hair loss, which a hair oil cannot do.
What are the Ingredients in Hair Tonic You Should Look For?
It is undeniable that ingredients have a significant role in hair tonics, therefore, we have listed the ingredients that you should look for before making a purchase.
1. Birch
Primarily, birch promotes a healthy scalp and hair, in which it nourishes the hair and prevents it from brittle. Besides, if you have a dry scalp or dandruff, it is the perfect ingredient for you.
2. Nettle
Nettle is a common ingredient in hair tonic that is available on the market. This is because they treat and prevent hair loss and dandruff. Furthermore, it contains silica or sulfur which is known for making our hair healthy and shiny.
3. Rosemary
Rosemary oil is known for stimulating hair growth and improving blood circulation in the scalp. Besides, it has inflammatory and soothing properties.
4. Witch hazel
Witch hazel is a natural astringent that can resolve scalp problems as well as dandruff. Furthermore, it can breaks down the residue left on the hair by other products. So, if you want smooth and shiny hair, you need to make sure that the hair tonic contains witch hazel.
5. Yarrow
If you're experiencing hair loss it is recommended that you opt for a product that contains yarrow. This is because it will tighten the pores on the scalp and prevent hair loss.
What are the Things to Consider When Buying a Hair Tonic?
Well, before you're thinking of incorporating hair tonic in your routine, it is important that you understand several factors to maximize the effectiveness.
1. Hair type
You need to identify your hair type so that you can choose the suitable hair tonic as the product was formulated based on the type of hair to deliver optimal results.
2. Ingredients
The ingredient is a significant element of the hair tonic, thus, you need to look for the ingredients that are effective to combat the hair issues that you're facing. For instance, if you're searching for the best hair tonic for hair growth, you need to make sure that they contain the necessary ingredients such as iron, vitamin, biotin, zinc, and omega fatty acids
3. Herbal
Primarily, you need to look for hair tonic that can detox the scalp and it is recommended that you opt for herbal hair tonic, as it does not contain harmful chemicals. Besides, herbal hair tonic promotes healthy scalp and hair growth.
What Are The Best Hair Tonics in Singapore?
1. NaturVital Hair Loss Tonic Treatment
Hair loss is no match for this hair tonic. Touted as the ideal treatment catered to fight hair loss, this hair tonic Ginseng extract in this hair tonic works to stimulate hair growth, while Pro Vitamin B5 rebuilds and repairs damaged hair follicles. With this hair tonic treatment, expect silky and manageable hair in an instant.
Here is what we love about this product:
Non-greasy finish
Repairs and strengthens the hair
Leaves the hair with a glossy finish
For the best results, apply three times a week over a period of six weeks. After that, apply once a week to maintain your scalp health.
Price: $15.00
Where to Buy: Watsons
2. SMiB InnaBi Coral Calcium Scalp Essence
SMiB's InnaBi Scalp Essence is formulated with a high concentration of effective coral calcium. It does not only work incredibly well in reducing hair loss but it also quickly eases and calms your itchy and irritated scalp. Not only that, for maximum effect of this Scalp Essence in aiding hair loss, but it is also best when used together with the SMiB Plasma Scalp Massager.
Here is what we love about this product:
Aid in the regeneration of your hair, making it healthy and shiny.
Infused in high-grade Coral Calcium, Panthenol, Menthol as well as Salicylic Acid
Combat hair loss with this effectively
Price: $49.90
Where to buy: SMiB online store
3. Shiseido Adenovital Scalp Essence
For the beauty junkie who frequents the higher-end hair salons , this scalp essence might be a familiar name to you. Hailed as a professional-grade tonic, this hair tonic features adenosine as its key ingredient, which promotes thicker hair growth. What's more, this scalp essence contains a blend of ingredients including Japanese Pepper and Hops extract to keep hair thinning and dandruff at bay.
Here is what we love about this product:
Controls excess sebum production without stripping away the natural moisture
Controls hair fall with its moisturising properties
Comes with a cooling sensation, making it ideal for Singapore's hot and humid climate.
Price: $112.00
Where to Buy: Lazada
4. Yanagiya Hair Tonic
All-natural hair products are having their moment and this Yanagiya Hair Tonic is one that has cemented its place as one of the most sought-after natural hair tonics. Formulated with a unique blend of botanical extracts including Ginseng, Swertia Japonica, Sophora Flavescens and Rabdosia Japonica, this tonic works to control hair loss by penetrating deeply into the roots. On top of that, this hair tonic enhances hair growth to maintain a full head of hair on your crowning glory.
Here is what we love about this product:
Relieves scalp itching
Strengthens hair follicles
Effective in preventing hair thinning
Price: $19.90
Where to Buy: Lazada
5. Aveda Volumizing Tonic
If your limp hair is in need of an emergency resuscitation, the Aveda Volumizing Tonic is here to the rescue. Infused with organic aloe and wheat amino acids, one pump of this hair tonic will repair any frizzy ends while adding a touch of shine to your locks.
Here is what we love about this product:
Relieves scalp itching
Adds volume
Improves glossiness
Price: $50.00
Where to Buy: Zalora
6. Kaminomoto Higher Strength Hair Tonic Silver
With Hinoki extract as this hair tonic's star ingredient, this hair tonic helps prevent premature hair loss. A potent blend of thyme extract and other botanical extracts also work to rejuvenate the hypodermic cells in the scalp to maintain a healthy crowning glory. Thanks to its non-sticky formula, you do not have to worry about leaving any oil slicks onto your hair. Plus, it opens with top notes of green floral fragrance to envelop your hair with a refreshing scent!
Here is what we love about this product:
Reduces dandruff
Controls hair loss
Eliminates dandruff
Price: $21.75
Where to Buy: Watsons
7. Dr. Groot Intensive Hair Loss Scalp Tonic
Hailing from South Korea, Dr Groot hair tonic can curb hair loss and scalp issues. Formulated with all herbal ingredients, this tonic is free from sulfates, silicones and parabens. To add to that, this tonic can also fight against hair thinning and premature hair fall with natural DHT-blocking ingredients such as Chinese Moutan. Plus, it can also speed up hair loss as it causes hair follicles in the scalp to shrink when it's freely flowing through your bloodstream.
* DHT stands for dihydrotestosterone, a sex hormone that contributes to the development of male characteristics, such as body hair.
Here is what we love about this product:
Intensive formula can prevent DHT
Helps inhibit bacterial growth
Reduce excess sebum
Price: $25.90
Where to Buy: Guardian Singapore
8. L'Oreal Professional Serioxyl Black & Full Tonic
Suffering from greying and other hair issues that come with ageing? Don't worry, this hair tonic by L'Oreal has got your back. Packed with ingredients like Black Shou Wu, Incell and more this hair tonic can increase the dark pigments in your hair and also prevents hair loss. To add to that, the tonic can also strengthen your hair follicles.
Here is what we love about this product:
Reduces hair loss with active ingredient Aminexil and THSG
Prevent grey growing hair with black pigments
Strengthens hair to prevents hair breakage
Price: $48.90
Where to Buy: Shopee Singapore
9. Atomy Hair Tonic
One of the most affordable hair tonics in Singapore, the Atomy Hair Tonic is ideal for those suffering from an itchy and oily scalp. Besides bringing relief to irritated scalps, this hair tonic can also promote healthy hair growth! Formulated with ingredients like dexpanthenol, salicylic acid, and menthol, this tonic leaves a refreshingly cool sensation – sweet!
Here is what we love about this product:
Brings relief to irritated scalps
Formulated with active ingredients like dexpanthenol, salicylic acid, and menthol
Prevent hair loss and promote hair growth
Price: $19.50
Where to Buy: Atomy Mall
10. PHS Hairscience Fem Fortify Tonic
Next in our list is PHS Hairscience Fem Fortify Tonic. This unisex hair tonic is specially developed to target women and men's hair and scalp problems related to stress, pollution and more. It neutralises free radicals and reduces hair loss by nourishing and strengthening the hair bulb.
Here is what we love about this product:
Prevent premature hair loss before it even happens
Delivers vital nutrients to nourish and strengthen hair roots
Anti-inflammatory and anti-bacterial for improved scalp health
Price: $120.00
Where to Buy: PHS Hairscience official website
11. Papilla Hair Regeneration Tonic with PhytoKines
Papilla Haircare is the 1st revolutionary medically backed hair loss centre in Singapore. Their product is paraben free, sulfate free, silicone free with no artificial colouring, no toxic chemicals and no artificial fragrances. It comes in two variations; Hair loss 1 to 3, and Hair Loss 4 to 6. Hairloss 1 to 3 is recommended for early Hair Thinning, Hair Loss Prevention. Hairloss 4 to 6 is recommended for Mid to Severe Hair Loss and Hair Loss Prevention.
Among its many benefits are:
Promotes Healthy Hair Cycle
Boosts Hair Density
For Healthier, Thicker Hair
Inhibits 5-alpha Reductase
Reinforces Hair Anchoring in Dermal Papilla
Prevents Hair Loss
Anti-dandruff
Protects Hair from Free Radical Damage
Anti-DHT
Anti-Inflammatory Effect
Price: $189.00 (Currently on sale for $151.20)
Where to buy: Papilla Haircare
12. Hair Restoration & Aesthetics TrichoMD Scalp Elixir
This product comes in a spray form. It is made with good ingredients that enhances the appearance on your locks. It also targets hair loss from oily scalp. It will leave you scalp feeling fresh and clean with every spray. TrichoMD Scalp elixir comes with a vital scalp care formula that sits lightly on the skin and provides the perfect amount of sensation. It is well-suited for oily scalp and thinning hair. It works to diminish the appearance of thinning hair and greasy looking scalp throughout the day.
Among the qualities of this hair tonic includes:
100% Made with USDA Certified Organic Ingredients
Promote Blood Flow to Scalp
Keep Scalp Free & Healthy
Keep Hair Fresh in-between Washes
Relieves Itchy Scalp
Highly Recommended by Hair Professionals
No Parabens, Sulfates, Glycols, Solvents, Silicones, Fragrances,etc
Price: $35.00
Where to buy: TrichoMD
13. Kerastase Cure Anti-Chute
This Kerastase Cure Anti-Chure is an intensive anti-hair loss cure. It inhibits hair loss and acts to improve the quality of new hair and density, while protecting against oxidative stress. It is enhanced with innovative key ingredients to restore the quality and suppleness of the scalp while delivering visible results. If you enjoy styling your hair this provides an added benefit for styling thanks to stronger and thicker hair with greater volume, shine and overall health.
The benefits of this hair loss cure include:
Clinically proven to help reducing the rate of hair loss
Offers better resistance to traction and less breakage during styling
Hair is enhanced, thicker and stronger
It recaptures volume, shine and flexibility
Hair is silky. No grease on the roots
Price: $354.00
Where to buy: Kimage Singapore
14. The Ordinary Multi-Peptide Serum for Hair Density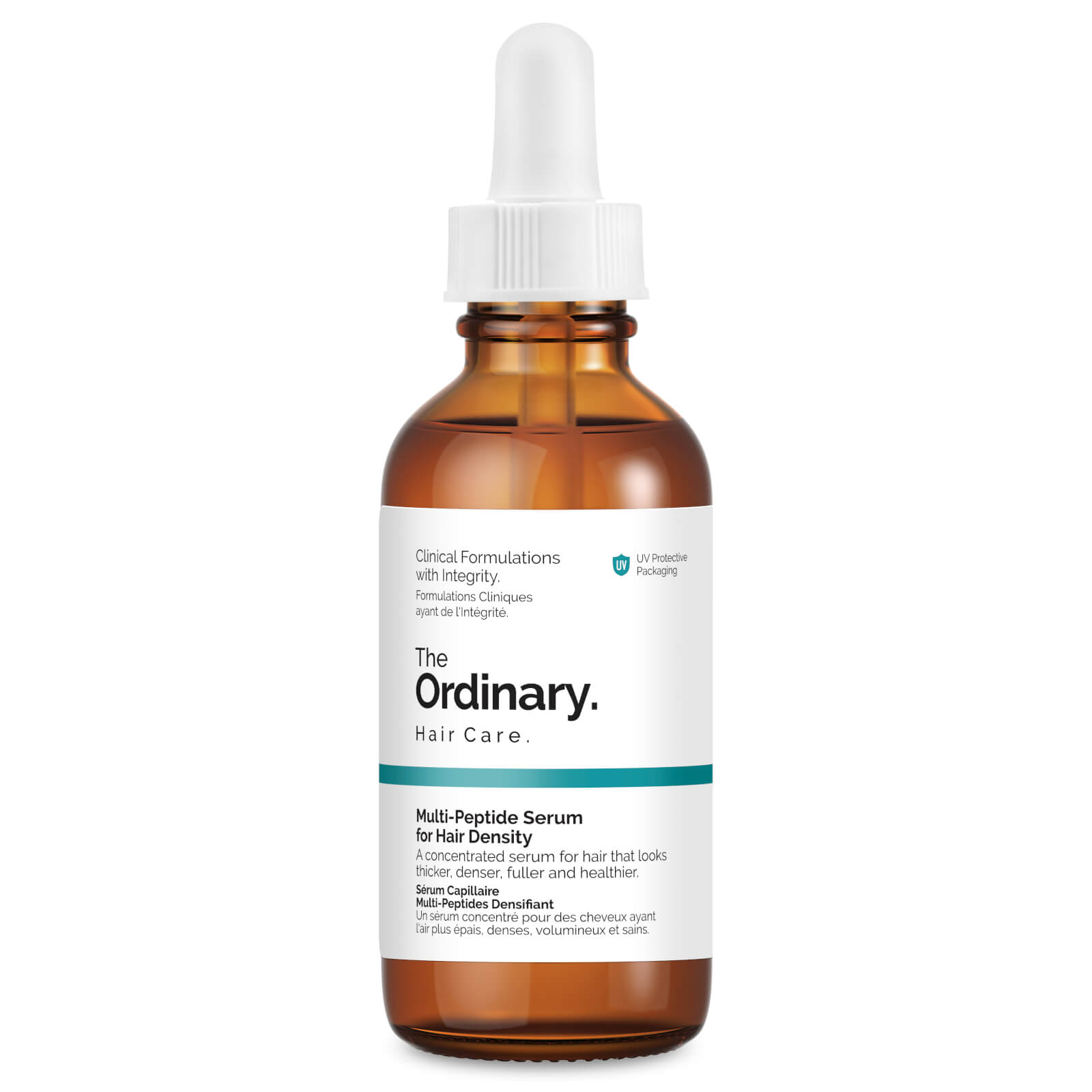 The Ordinary Multi-Peptide Serum for Hair Density is a concentrated formula specially designed to support the health of your precious locks. The ingredients work hard to promote a thicker, denser, fuller and healthier-looking head of hair. This tonic is ultra-lightweight and effectively penetrates the hair and scalp, and utilises a 21.15% concentration of technologies for maximum results.
Benefits:
Good for thinning hair
vegan
alcohol free
cruelty free
no silicone
for all hair types
helps hair look thicker, denser, fuller, and healthier
Price: $29.50
Where to buy: Look Fantastic Singapore
15. Dr Hauschka Hair Tonic
The ultimate formulation since 1967, it's so good that they haven't changes it since then. The tonic adds natural shine, volume and manageability to all hair conditions. Furthermore it works to strengthen hair as it calms and balances an excessively dry or oily scalp. The formulations includes extracts of neem leaf, arnica and birch bark for fine hair and discourage breakage. The ingredients nourishes and balances an oily or dry scalp. Rosemary, borage and horse chestnut ingredients support and invigorate hair follicles.
Benefits include:
Prevents massive hair loss
Prevents dandruff
tones the scalp
Strengthen the scalp
normalises oil production
Adds volume to hair
Relieves itchy scalp
Non Oily Texture
Price: $49.00
Where to buy: Pamper Inc Singapore
16. ICM PHARMA Growell 5% Scalp Lotion
ICM Pharma Growell Scalp Lotion contains "Minoxidil" the only scientifically proven topical treatment for hair loss that is effective for both men and women. It helps with the growth of new hair and reduces hair loss successfully. This product works by rejuvenating and enlarging miniature hair follicles, and stimulates hair growth. Manufactured in Singapore under Pharmaceutical Good Manufacturing Practice standard, it comes with a precision spray pump for mess-free application and to reduce wastage as well.
Price: $69.75
Where to buy: Watsons Singapore
17. Kirkland Minoxidil-5% Extra Strength Hair Regrowth
Formulated with 5% Minoxidil, this product nourishes the hair follicle to help the process of hair growth. See visible hair growth within a month of daily usage. A strong remedy for hair growth and has been proven in multiple studies. The company does want you to note that if no changes are seen within 4 months of use, please stop use as it was found that it works different on everyone.
Price: $54.95
Where to buy: Amazon
18. Alpecin Caffeine Liquid Hair Recharger
True to its name, this hair tonic is clinically proven re-energize the roots of the hair while preventing hair loss. Aside from that, it helps the hair grow continuously while keeping it strong and healthy. It can be applied directly on to the scalp without rinsing it off. Perfect for all hair types and lengths.
Price: $17.90
Where to buy: Insider Mall
Add to Cart
19. Plantur 39 Phyto-Caffeine Tonic
Formulated for 40-year-old people and above especially for those suffering from hair loss, Plantur 39's Phyto-Caffeine Tonic is definitely a hair savior! Its active ingredients help stimulate the scalp and strengthen the roots so the hair that grows will be thick and healthy. Consistent usage will help reduce brittleness and thinning of the hair.
Price: $19.90
Where to buy: Insider Mall
Add to Cart