Hard working ladies need hard working products. If you have been searching for eye cream reviews online, looking for the best eye cream for dark circles or the best eye cream for wrinkles, you may stop Googling and read this list instead. Beauty Insider has compiled the top eye creams for your problems: dark circles, wrinkles, sensitive skin, and puffy eyes.
If you want to go the extra mile to make your eyes look more awake and alive, try these makeup tips too. And if you want to give your eyes a bit more oomph without it looking unnatural, Beauty Insider recommends these colored beauty lenses.
Here are the top eye creams that works hours as long as you!
Best Eye Creams for Wrinkles and Crow's Feet
SK-II R.N.A Power Eye Cream Radical New Age
Buy it now: $149.00 at Sephora Singapore
This product harnesses the power of the RNArchitect Complex along with Chlorella Extract and Palmitoyl Pentapeptide-4. This one-of-a-kind eye cream not only gives you the firmness you need around your eyes, but it also enhances the skin surface renewal.
Also, because of its light and creamy texture, this cream is easily absorbed by the skin. It completely fills your skin with the moisture it needs while blurring and improving the fine lines and wrinkles around you eyes, making your eyes look as youthful as ever.
Best Eye Creams for Dark Circles
Vichy Mineral 89 Eye Repairing Concentrate
Buy it now: $32, Guardian
Say goodbye to dark circles with this affordable yet effective eye cream! It contains Vichy's signature thermal mineralizing water, naturally-derived hyaluronic acid, and caffeine. These work together to brighten the eyes area and make you look like rested and refreshed.
"After a week applying my eyes looked a lost less shadowed underneath!" says Kate82 in her Vichy review. In Makeup Alley, RedWings11 praised its lifitng effect. "The hyaluronic acid and caffeine keep the skin plump yet not puffy."
This is also one of the best eye creams for dry skin, It's very hydrating, but it doesn't feel sticky or greasy. You can even use it under makeup!
Origins Ginzing Refreshing Eye Cream
Buy it now: $52, Sephora
No sleep? No problem! This eye cream beats all the effects of the ""morning after". It contains caffeine, ginseng and natural optic whiteners to revitalize your eye area. It also has a yellow tint, which instantly counters the dark and purple hues of dark circles. It's like an eye cream, color corrector and eye primer in one!
This popular eye cream has gotten over 4,000 reviews and 100,000 "loves" in Sephora. A 50-year-old reviewer who jokes she has "four sets of dark circles" from age, lack of sleep, allergies and computer use says that "It's almost a miracle! My eyes look a lot less stressed."
Shiseido White Lucent Anti-Dark Circles Eye Cream
Buy it now: $89.69, Amazon Singapore
One of the most popular Japanese eye creams for dark circles! It uses Shisheido's famous brightening technology to fight two common reasons for raccoon eyes: melanin formulation (brown circles) and bad circulation (blue circles). It also fights future pigmentation, so dark circles go away — and stay away!
The lightweight cream is also formulated for Asian climates, and doesn't feel greasy. You can wear this under makeup.
Estee Lauder Ultimate Diamond Transformative Energy Eye Creme
Buy it now: $528, Tangs
Dark circles can sometimes be aggravated by age. As we grow older and lose collagen, the skin under our eyes become thinner and the blood vessels underneath show through.
This is where Estée Lauder's revitalizing eye cream can help! It's made of black diamond truffle extract that goes deep into the skin layers to speed up cell regeneration.The fine shimmer particles also have a subtle luminizing effect, so your eye area instantly looks brighter.
View this post on Instagram
Use the wand that comes with it to massage the eye area. It boosts circulation to ease fatigue and circulation. Store the wand in the refrigerator for a relaxing cooling effect.
Best Eye Creams for Puffy Eyes
Kenzoki Ice-Cold Eye Cream
Buy it now: $84, Sephora
Place this eye cream in the refrigerator! Then, every morning, pat it into your skin. The puffiness disappears like magic, and your eyes look refreshed. It feels light, and absorbs in seconds. You can apply this under makeup, with no smudging guaranteed!
Best of all, this eye cream uses natural ingredients: ginger water, essential oils, mango butter, and mineral extracts. It smells amazing, too!
Watch their video demo of Kenzoki eye cream to see how it instantly refreshes the eyes.
Laneige Water Bank Eye Gel
Buy it now: $49, Tangs
Pat in this refreshing eye gel every morning to minimize puffiness and prep your skin for concealer. It contains Hydro Ionized Mineral Water and natural plant extracts that are full of antioxidants. Together, they strengthen your skin barrier to protect your skin from sun damage and ageing.
Unlike other gel eye creams, this contains silicones that trap moisture so that your eye area stays hydrated the whole day. The watery texture also makes it one of the best eye creams for oily skin, or for patting over your makeup if you need to refresh your concealer in the middle of the day.
Kiehl's Facial Fuel Eye DePuffer
Buy it now: $35, Tangs
One of the best eye creams for puffy eyes! The caffeine constricts blood vessels, for an immediate calming and soothing effect. It also contains Vitamin B3, which can help brighten your eye area. Hibiscus extract is also called the natural botox: it helps improve skin texture and firms up your skin to make the area look firmer and younger.
Botanifique Hydrapower Puffiness No-More
Buy it now: $260, NaturalBeauty
This anti-aging microcream won a Beauty Insider award! The special EYELISS™ complex fights puffiness while making the skin look smooth and firm. For more information about the product, click here
La Mer The Eye Balm Intense
Buy it now: $335, Tangs
Give tired, puffy eyes the royal treatment with this luxury eye cream! It contains La Mer's special Marine De-Puff Ferment™ complex, which works with a rare tourmaline to dramatically reduce puffiness. And of course, La Mer's signature Miracle Broth™ repairs the effects of sun damage and ageing. Your eyes look fresh, young and vibrant!
We recommend using this eye cream at night since it's too heavy to wear under makeup and its ingredients can make your skin sensitive to the sun.
AHC The Pure Real Eye Cream
Buy it now: $26, Lazada and Watsons
This is one of the best Korean eye creams! One tube is sold every 2 seconds in Korea, and even won an Allure Best of Beauty Award. Its raspberry extract fights fine lines and wrinkles, while the rice extract brightens and moisturizes. It can also soothe irritation and protect your eye area from absorbing microdust!
This eye wrinkle cream comes at a very affordable price, so it's a good choice for someone who wants to start anti-ageing early.
Charlotte Tilbury Magic Eye Rescue Cream
Buy it now: $100, Sephora
Grab this Sephora Singapore exclusive while stocks last! Since it was launched, several Hollywood A-list stars (including Susan Sarandon) say it's one of their anti-ageing must-haves. It contains a winter daphne stem cell extract and time-released retinol molecules to smoothen, firm and retexturize ageing skin. A botanical eye complex fights dark circles and reduces puffiness. Charlotte Tilbury reviews call it "pure indulgence for the eye area."
Obagi Medical Elastiderm Eye Cream
Buy it now: $167, ThePerfumeStore
This eye cream stimulates the production of collagen and elastin so your skin renews itself. The blend of advanced ingredients helps you see results in less time. In their clinical trials, 88% of patients noted that the looseness of their skin improved with this eye creams, and 97% said the rough areas around their eyes became less visible. For more information about the product, click here.
Estee Lauder Advanced Night Repair Eye Synchronized Complex II
Buy it now: $105, Sephora
One of Sephora Singapore's bestsellers, with an average 4.5 star rating ! It's also one of the best anti-ageing cream for 40s and above. It uses the ChronoluxCB™ technology which targets all the signs of ageing: crow's feet and fine lines, sagging, and dullness. It is also very hydrating, and can prep your eye area for concealer.
The gel cream formula doesn't feel greasy and absorbs easily. It has been opthalmologist-tested, dermatologist-tested, and is non-acnegenic. It's free of fragrance, too! It has a 4.3 rating on Influenster, with people raving about how their eyes looked more refreshed and younger after just a few days of use.For more information about the product, click here.
Lancome Genifique Youth Activating Eye Cream
Buy it now: $105, Lancome Singapore
This anti-ageing eye cream is packed with millions of probiotic cells to combat fine lines, crow's feet, and other signs that make your eyes look old and tired. It improves your skin barrier (to prevent dryness and early ageing) and firms up your skin too. Bouncy, brighter, beautiful skin — we're in!
This revolutionary eye cream was developed after 14 years of research and clinical trials. Studies show that it will lift and revitalize your eye area. It's life an eyelift in a bottle! Check the Singapore reviews!
Best Eye Creams for Sensitive Skin
Esse Probiotic Sensitive Eye Cream
Buy it now: $109
Add to Cart
One of the best-selling eye creams in Singapore, Esse Probiotic Sensitive Eye Cream is a dream come true for those with sensitive skin. This lightweight cream can gently hydrate the delicate eye area without triggering inflammation or irritation.
Infused with Lactobacillus extract, this eye cream can balance out the microbiome that supports new cell growth. Formulated to proactively calm and protect reactive skin, this eye cream can also address the signs of ageing.
Avene Soothing Eye Contour Cream
Buy it now: $33, Watsons
Avene specializes in making gentle but effective products that are safe for sensitive skin. This eye cream soothes and refreshes your eyes with thermal spring water. It's also full of antioxidants and hydrating ingredients that help relieve that tight, tired feeling.
This gentle cream can't really fix dark circles or fine lines, but if you just need a moisturizing eye cream that won't irritate your skin, this is for you. It got 4-star rating on Makeup Alley. "This is the only product my sensitive eyelids can tolerate," says one review who goes by the handle inmyopinion.
Burt's Bees Skin Nourishment Eye Cream
Buy it now: $52, Sephora
Take it from all of the eye cream reviews from people who have sensitive skin! The natural, organic royal jelly extract works wonders on the undereye area. It doesn't sting or irritate the skin, and even if it has a light texture, it's not so watery that it slips into your eyes and makes you cry. It doesn't crease in fine lines and immediately hydrates the eye area. Perfect for dry or ageing skin!
We recommend this eye cream if you have very sensitive skin, wear contact lenses, or if you have dry skin and want a gentle eye cream that will help your eye makeup and concealer go on better. Use it in the daytime under makeup, or pat it over makeup to refresh the eye area in the middle of the day.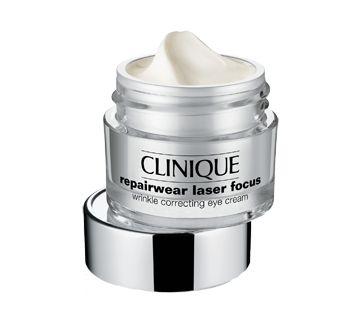 Clinique Repairwear Laser Focus Wrinkle Correcting Eye Cream
Buy it now: $76, Sephora
It's hard to find an anti ageing eye cream for sensitive eyes, but this Clinique bestseller fits the bill. It's been tested by opthalmologists and dermatologists, and gone through rigorous clinical trials that prove both its efficiency and safety.
This eye cream is clinically proven to reduce fine lines, sagging and crow's feet after 4 weeks. "No more tired-looking eyes, reduces eyebags, and my wrinkles have started to disappear. A bit pricey but worth the money," says Afifah Endar in her Sephora review.
First Aid Beauty Eye Duty Triple Remedy AM Gel Cream
Buy it now: $59, Sephora
This eye cream has been dermatologist-tested and allergy-tested to be absolutely safe for sensitive skin. It fights dark circles and puffiness with caffeine and licorice root extract, while red algae extract helps fight fine lines. Sephora reviews say that it gives visible results, and it feels really comfortable on the skin too.
It's a gel formula, so it's suitable for people with oily skin (or Singapore's very hot, sweaty weather). Pat it into the skin with your ring finger, waiting for it to absorb before applying another layer if your skin is especially "thirsty."
Hada Labo Moist Eye Cream
Buy it now: $19.50, Lazada
Brightens and moisturizes your eyes with no irritation! This gentle eye cream is PH-balanced to minimize skin reactions. It contains no fragrances, alcohol, mineral oils or artificial colours. What it does have? Intensely moisturizing ingredients that fight dryness, dark circles and puffiness.
Each tube of this popular eye cream has 3 kinds of hyaluronic acids, natural jojoba oil, and patented Actiflow Complex. And at less than $20, it's one of the most affordable eye creams in Singapore!
Eye Cream Tips
Pat eye cream with your ring finger. This helps your skin absorb the product and gently stimulates circulation.
Get two kinds of eye cream: a lighter one to use under makeup, and an anti ageing eye cream to use at night. The skin around your eyes is very thin, so it ages faster!
Store eye creams in the refrigerator. The cooling effect is refreshing and reduces puffiness.
If you accidentally buy eye cream that's too greasy, don't throw it away! Mix it with a thick concealer. The concealer cuts through the grease, and the eye cream gives concealer anti-ageing benefits!