It's not always simple to look after your sparkling whites. Brushing and flossing on a regular basis, as well as regular dental exams, are all part of it. Finding the appropriate dental clinic on the island might be more difficult than you think because some dental clinics do not provide the care your teeth require. As a result, Beauty Insider has compiled a list of the finest dental clinic in Punggol to help you attain your dream smile.
Brushing and flossing morning and evening are not enough to adequately care for your teeth. You would seldom need to visit the dentist if this were all that was required to maintain your teeth in good health. Many individuals will put off seeing a dentist until they have a problem, such as a tooth discomfort or bleeding gums. Regular dental check-ups are necessary to maintain healthy gums and teeth and to avoid other oral health issues.
1. Smiles R Us Dental
| | |
| --- | --- |
| ADDRESS | BLK 658, #01-02 Punggol E, Singapore 820658 |
| OPERATING HOURS | Every day (9:30am – 9:30pm) |
| CONTACT | +65 6904 2212 |
Smiles R Us Dental is one of the top dental clinic in the country, not only in Punggol. We say this because the island has over five separate sites. Smiles R Us Dental is dedicated to providing both individuals and families with outstanding dental treatment for all of their dental requirements. Patients are always made to feel welcome and at ease in the clinic.
Furthermore, dental implants, crowns and bridges, tooth whitening, smile restoration, dentures, and orthodontic treatments are among the services provided. It also does routine dental procedures such as scaling and polishing, fillings, and extractions.
2. AllSmiles Dental Care Punggol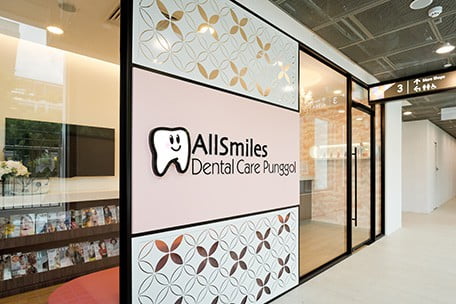 | | |
| --- | --- |
| ADDRESS | 681 Punggol Dr., #03-10 Oasis Terraces, Singapore 820681 |
| OPERATING HOURS | Every day (10am – 9pm) |
| CONTACT | +65 6787 9166 |
AllSmiles Dental Treatment is a full-service dental clinic geared toward families that focuses on delivering gentle, safe, and holistic dental care. They place a high value on establishing a welcoming environment that puts patients at ease.
Moreover, the clinic takes pride in its painstaking attention to detail throughout the workplace, which is supported by modern and well-equipped medical facilities. As a result, this leads to an increase in efficiency, infection control, and high-quality treatment.
3. Caring Dental
| | |
| --- | --- |
| ADDRESS | Blk 665A Punggol Drive, #01-02, Singapore 821665 |
| OPERATING HOURS | Weekday (9am – 9pm), Weekend (9am – 5pm) |
| CONTACT | +65 6481 6833 |
Caring Dental, which opened its doors in 2011, specialises in providing high-quality dental treatment to families. Each treatment is customised especially according to the individual's needs for the greatest potential outcome, as they make it their duty to understand and resolve the community's dental issues.
Furthermore, nearly every dentist on its staff has studied and practised dentistry in a variety of nations. Additionally, Caring Dental provides a comprehensive range of dental services, including braces, tooth whitening, scaling, extractions, and more!
4. Smile Doctor
| | |
| --- | --- |
| ADDRESS | 83 Punggol Central, Singapore 828761 |
| OPERATING HOURS | Monday to Saturday (10am – 10pm), Sunday (10am – 5pm) |
| CONTACT | +65 6386 7880 |
Smile Doctor Dental Clinic is a contemporary dental clinic that specialises in sophisticated diagnoses and treatment of dental diseases. It provides a wide range of dental care, surgical treatments, and cosmetic dental services. Moreover, it's also recognised for being a dental clinic that provides a welcoming, safe, and non-intimidating environment. This is mostly due to the dentists and nurses on staff being so approachable and pleasant.
With a focus on world-class dentistry and uncompromising care, the dental experts there are continuously updating their knowledge and abilities. This is done through rigorous training, seminars, and courses, all in order to give the finest treatments and services to their patients.
5. The Dental Inn
| | |
| --- | --- |
| ADDRESS | 168 Punggol Field, #04-01, Singapore 820168 |
| OPERATING HOURS | Every day (9am – 8pm) |
| CONTACT | +65 6312 8998 |
The Dental Inn, which has been a mainstay in the neighbourhood for the past decade or two, provides high-quality dental services at very low costs. Aside from initial consultations to evaluate each patient's dental health, the clinic goes out of its way to ensure that everyone has a good experience. Moreover, the fact that the dentists there have at least a decade of expertise in the field should be enough to put anyone at ease.
6. Teeth Q Dental Surgeons
| | |
| --- | --- |
| ADDRESS | 218 Sumang Walk, #01-02 Matilda Portico, Singapore 820218 |
| OPERATING HOURS | Monday to Saturday (9am – 9pm), Sunday (Closed) |
| CONTACT | +65 6538 2260 |
Patients at Teeth Q Dental Surgeons have access to a wide range of dental services. Their dentists are skilled in a variety of fields of dentistry, allowing them to efficiently handle a wide range of dental issues. They've handled both general and specialised therapies.
Furthermore, their services are available at a reasonable cost. As a result, you can rest assured that you will be welcomed in a warm and welcoming environment.
7. Family Dental Care
| | |
| --- | --- |
| ADDRESS | 168 Punggol Field, #02-06, Singapore 820168 |
| OPERATING HOURS | Monday to Saturday (9am – 9pm), Sunday (Closed) |
| CONTACT | +65 6886 0905 |
We strongly recommend Family Dental Care if you're searching for a dental clinic that not only has a solid track record but is also well-regarded by many institutions. It's no secret that it's one of the best dental clinic on the island, not just in Punggol. It also has a staff of 50 dental surgeons, each with their own specialisation and skill. It also doesn't fall short in terms of service quantity. Extractions, tooth whitening, surgery, and paediatric dentistry are among the treatments offered.