Nail
The Best Press-On Nails You Can Get For An Easy Manicure
Press-on nails are all the craze right now!
By: Cherelle Lim / August 11, 2022
Press-on nails are all the craze right now! Everyone is opting for these cute and reusable nails instead of getting manicures at salons. There are actually quite a few benefits to using press-on nails as well. These press-on nails are available almost anywhere too! Even at drugstores such as Watsons, you can probably find a cute set of press-on nails. Besides that, there are many small businesses that have started selling these at-home press-on nail kits. Even some nail salons are providing customised designs for clients. Thus, Beauty Insider is here to share with you some press-on nail sellers in Singapore!
What Are Press-On Nails?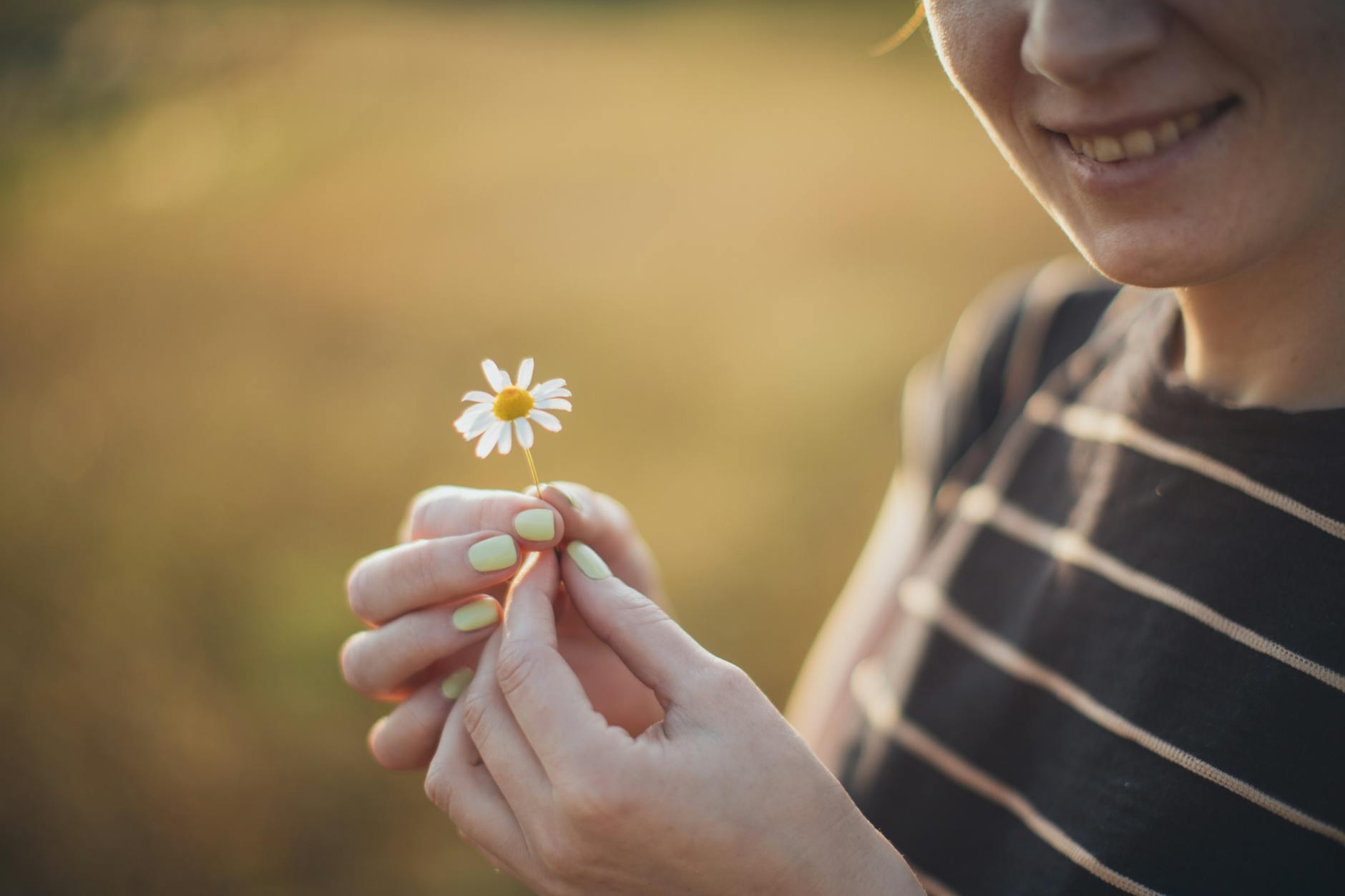 Press-on nails are artificial nails made out of acrylic resin. These press-ons use glue to stick to your nails. Don't worry because these are not tacky like those nail stickers you used to put on as kids. Or even the fake nails that came with a princess makeover set! Press-ons are the next best thing! Some sellers and nail salons even hand paint their press-ons for a personal touch. Some even include customisable services where clients can present their own designs! Easy to put on even at home, all you need to do is add a drop of glue and hold it against your nail for a few seconds.
How Long Do They Last?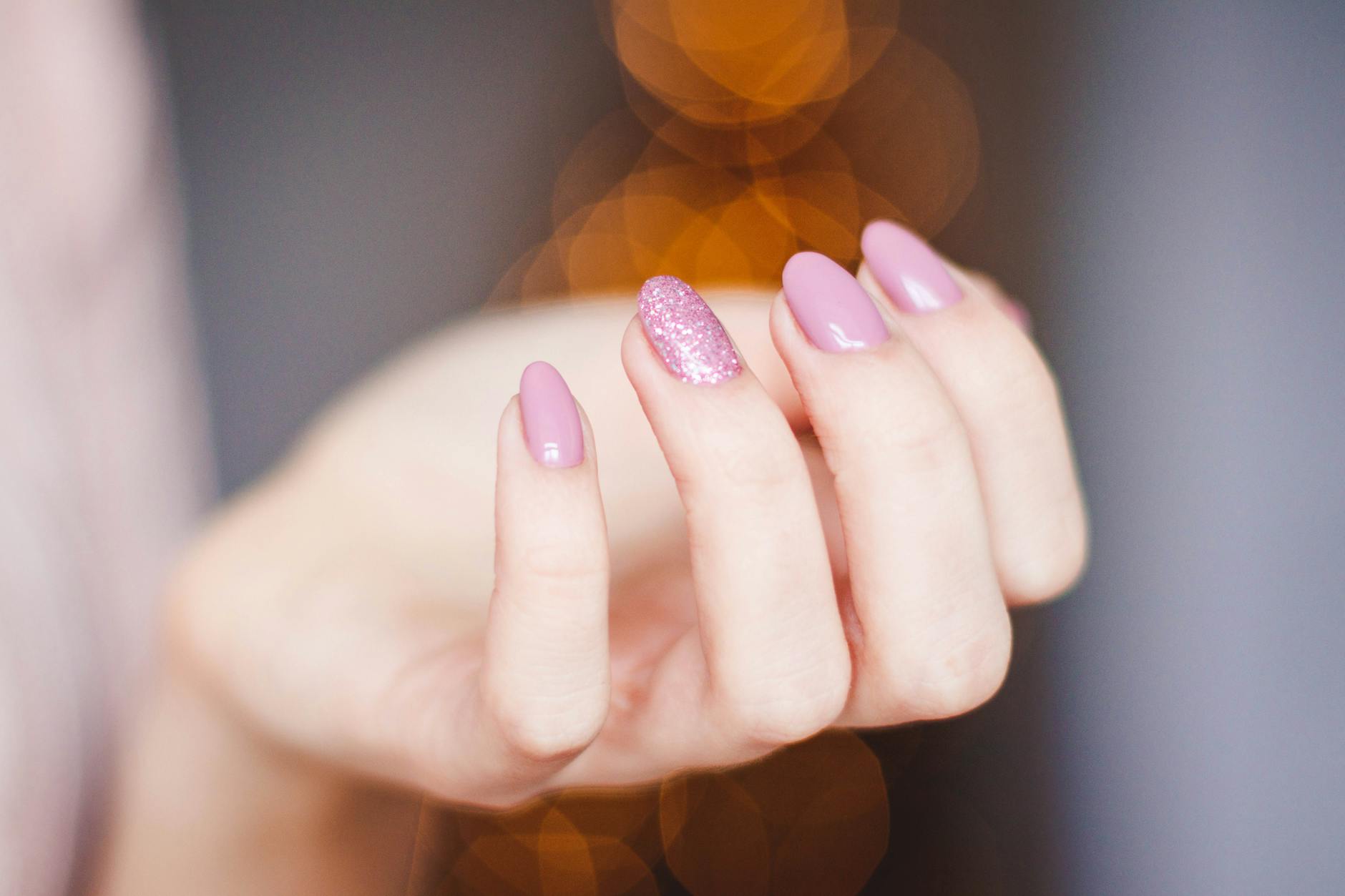 Press-on nails typically last five to seven days but depending on your activities, it could last longer. Or shorter. Depending on if you're using an adhesive or glue, this can also impact the life of your press-ons. Some nails are water-resistant, while others aren't. So if you are always the one who's doing the dishes, your press-on nails might not last as long as you'd hope! For some, these babies can even last up to a month!
The Benefits Of Press-On Nails in Singapore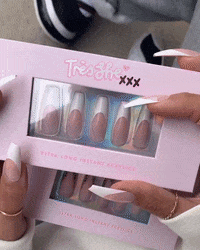 There are several benefits of press-on nails. First of all, they aren't as damaging as getting nail extensions or manicures every time. Not only are these nails affordable, but they also come in many different designs as well! Easy to use, it is also quick to put on and get done. Therefore, anyone can do it by themselves at home. It also saves you time from sitting at a nail salon all day! These press-ons also leave your nails healthier since they are quite easy to remove.
The Best Press-On Nails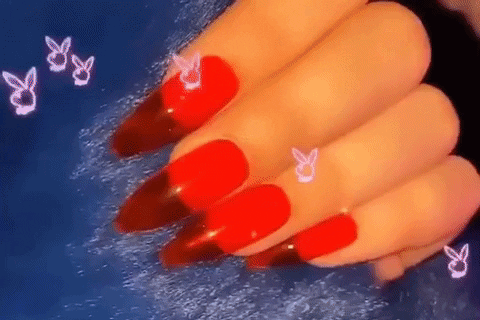 Now, let's see what Singapore has to offer in the press-on nails department! Most of these are local brands and small businesses so make sure to show your support!
1. Khaki Olives
Khaki Olives provides press-on nails that are 100% hand-painted! These rewearable nails are available not only in Singapore but to everyone around the world too. This is because they provide international delivery to the rest of the world. So, if any Malaysian friends want to get their hands on these cute and pretty nails, start ordering! If you are indecisive with your nail designs, Khaki Olives can help with their ready-made designs. Even though they are still quite new, they have garnered a great following and seen a fair share of Singaporean influencers.
Price: Starting at $25.00
Where to buy: Khaki Olives
2. Dashing Diva
If you are looking for more nail designs, check out Dashing Diva! They probably have the most variety of press-on nail designs in Singapore. Whether you are looking for something cute, fancy or basic, Dashing Diva has it all. They haven't forgotten about your feet as well as they also have a pedicure range. Therefore, you can have cute and beautiful designs on your hands and feet! If your kids want to have some nail fun as well, Dashing Diva also has a selection of petite nails. If you have small nails, there's no harm in going for the petite designs too!
Price: Starting at $16.90
Where to buy: Dashing Diva
3. Nails By Fels
Nails by Fels is a nail salon that offers press-on nails and manicures. If you prefer getting your nail extensions done, you can do so as well! For those that prefer press-ons, check out their many nail designs. Even with its affordable price, they manage to provide press-ons that are good in quality. Their manicure services are also quite affordable, so you can decide if you want to get your nails done traditionally or with press-ons!
Price: Starting at $22.00
Where to buy: Nails By Fels
4. Euns Nails
If you are looking for nails that bling in the sun, then Euns Nails might have what you're looking for! She specialises in creating designs that are full of bling. Besides that, she's also able to add cute bunnies, teddy bears and even gems. Her sets are super affordable and she even offers services of nail extensions and express gel manicures. Currently, she has mystery sets on promotion so do check her out!
Price: Starting at $12.00
Where to buy: @eunsnails
5. Vain Nails
Whatever kind of nail design you are looking for, Vain Nails can help you achieve it. Just send her your designs beforehand and let Vain Nails work her magic! Your nail designs will then be hand-painted skillfully. Besides that, these press-on nails are also reusable and uniquely you! Even the size is measured according to your finger size. So, there are no one-size-fits-all. She also provides manicures, pedicures and nail extension services. Get her mystery set so you don't have to stress about what design you want!
Price: $40.00 – $50.00 (Mystery Designs)
Where to buy: @vainnails
6. Baked Nails
Baked Nails is here to deliver the perfect nail look you want! Whether you want a simple or over the top look, Baked Nails can help you achieve that. Providing nails with matte finishings, chrome finishings and even dangling charms. All the press-on nail sets are custom-made, so the price will vary depending on your design. Choose from six different nail shapes too and DM her your own design!
Price: Varies depending on the design
Where to buy: @bakednails.sg
7. Wow Nails SG
Done by a certified nail tech, customise your nails according to your taste or mood with Wow Nails! Their designs range from animal prints to bling blings on top of your nails. You can also choose the size and shape for these nails. On top of that, they also offer unlimited designs or they can replicate the design you want – just choose from their long list of past works.
Price: Starts at $68.00
Where to Buy: @wownailsg
8. De Avenail
With each nail set done by certified artists, you can certainly get the design of your dreams to come to life from De Avenail. Whether it's minimalist designs or delicate bride-to-be designs, they certainly have them covered.
Price: Starts at $68.00
Where to Buy: @deavenail

9. My Nail Cottage
Looking for themed nail designs? For the next celebration, get your press-on nails designed by My Nail Cottage! Aside from their popular holiday-themed designs, they're also known for their detailed flower designs.
Price: Message them for a quote
Where to Buy: @mynailcottage
10. PressedDawnn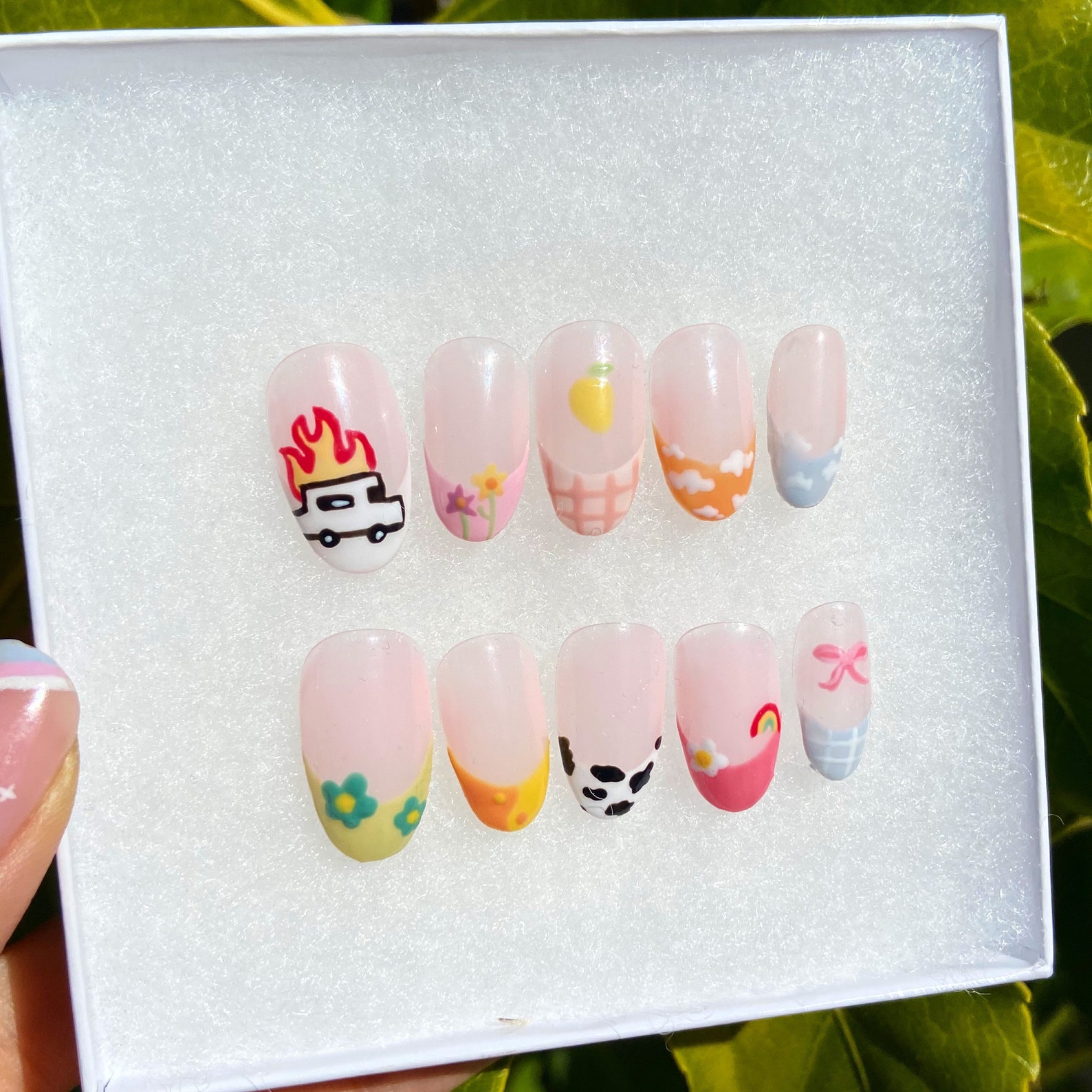 Looking for nail designs inspired by your favourite K-pop artist? PressedDawnn delivers nail designs similar to your idols, carefully hand made in 1-2 weeks. Aside from that, you can customise the nail size and shape depending on your preferences.
Price: $59.65
Where to Buy: PressedDawnn at Etsy SG
11. Final Touch Nails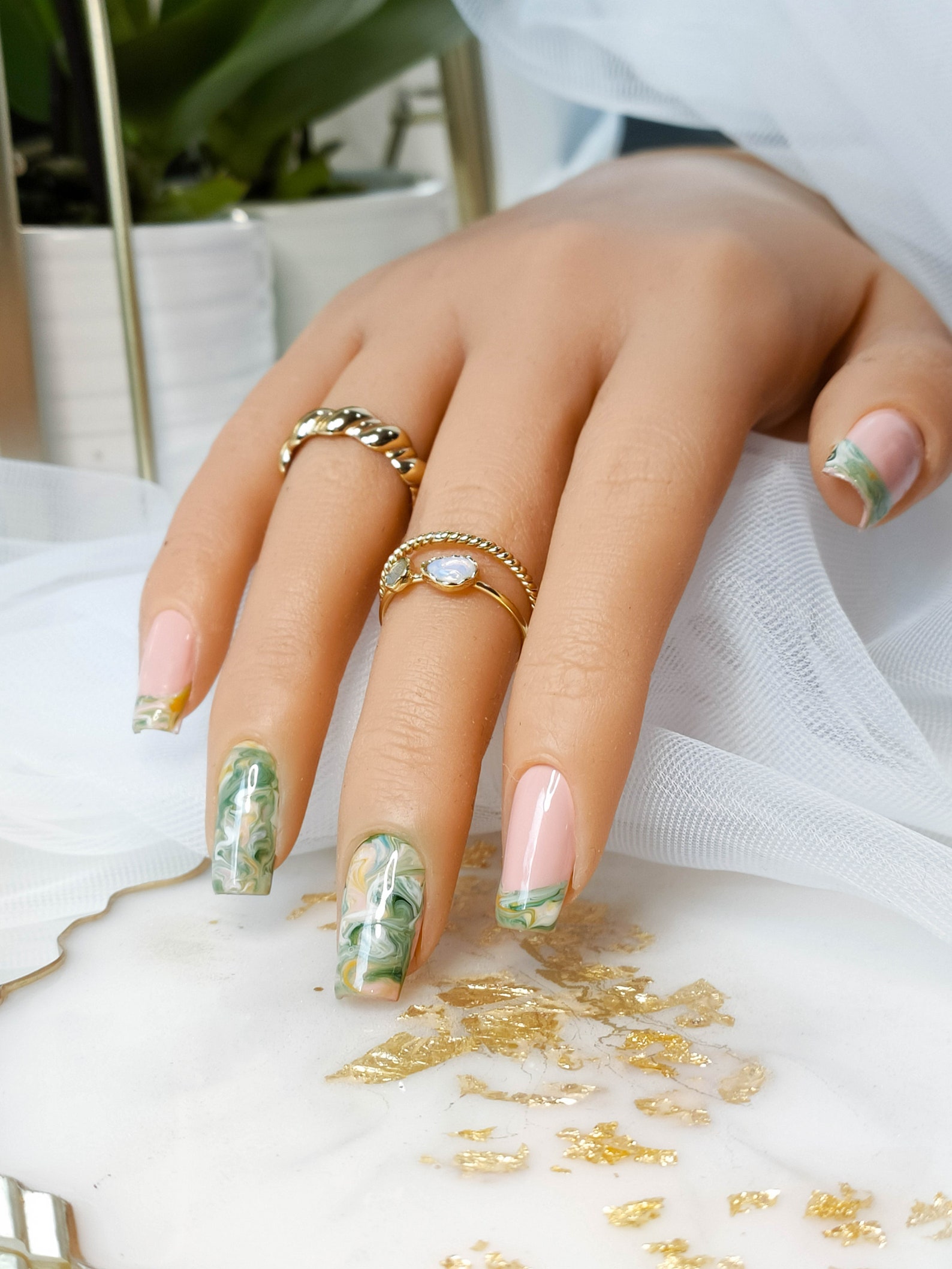 For dreamy, painting-inspired press-on nails, trust Final Touch Nails to give you gorgeous nails inspired by world-famous paintings. The designs use the elements from the paintings on the nails for a distinctive look that's unlike any other. Nail size and length can be customized per request.
Price: $40.57
Where to Buy: Final Touch Nails
12. MUSE & Co
For premade nail sets, Muse & Co has a variety of designs ranging from simple gels, French tip nails with a twist, to bedazzled nails. Stick on and get a pop of colour in just 5 minutes!
Price: Price varies depending on design
Where to Buy: Muse & Co
13. AmiHouseNails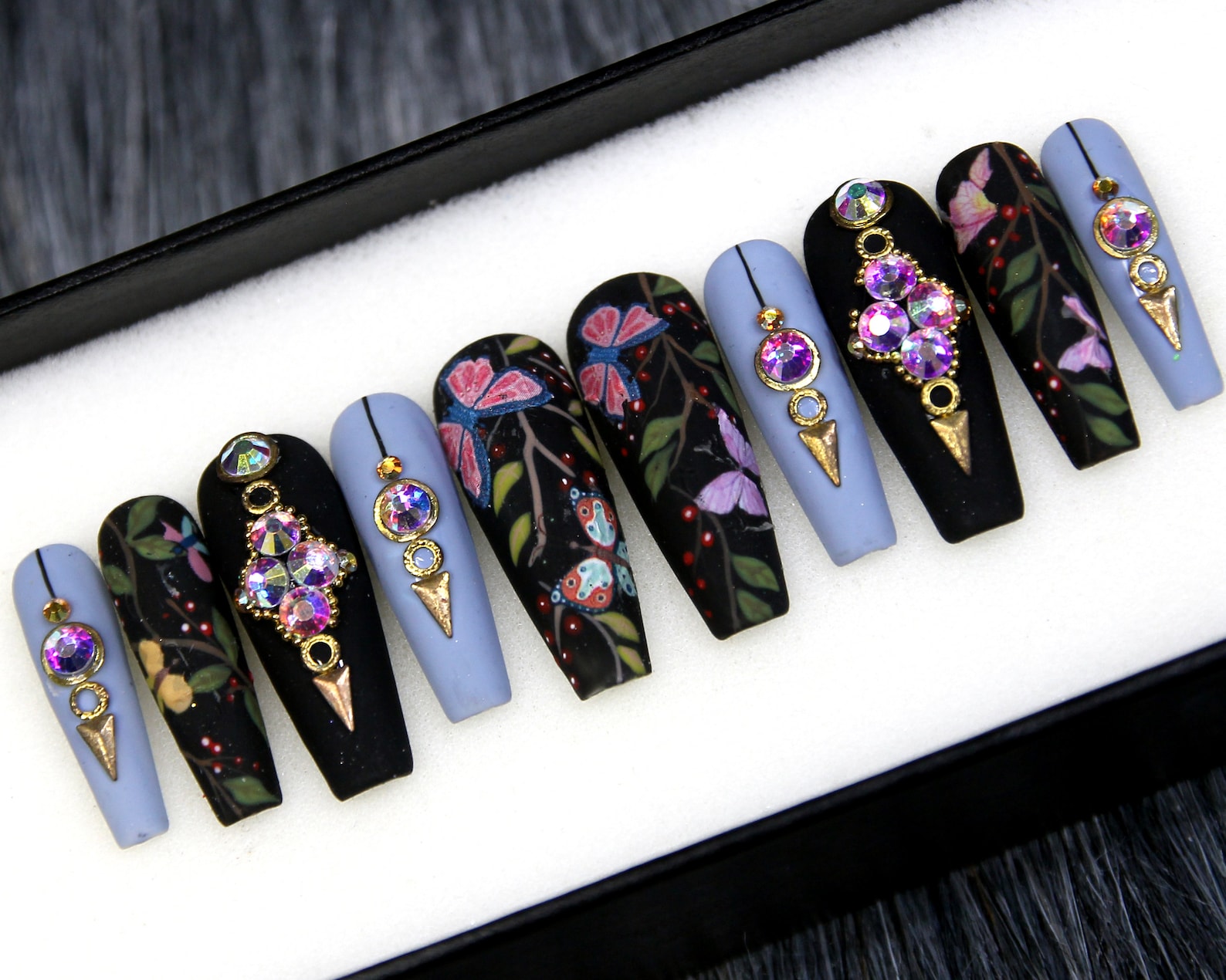 If you prefer long coffin-type of nails, then Ami House Nails is a great store to look into! These reusable gel nails last a long time and each set comes with a free mini file, mini buffer, and cuticle stick. They are usually known for their luxurious look and feeling nails that you can't help but show off!
Price: $27.60
Where to Buy: Ami House Nails
14. Bunny Press On Nails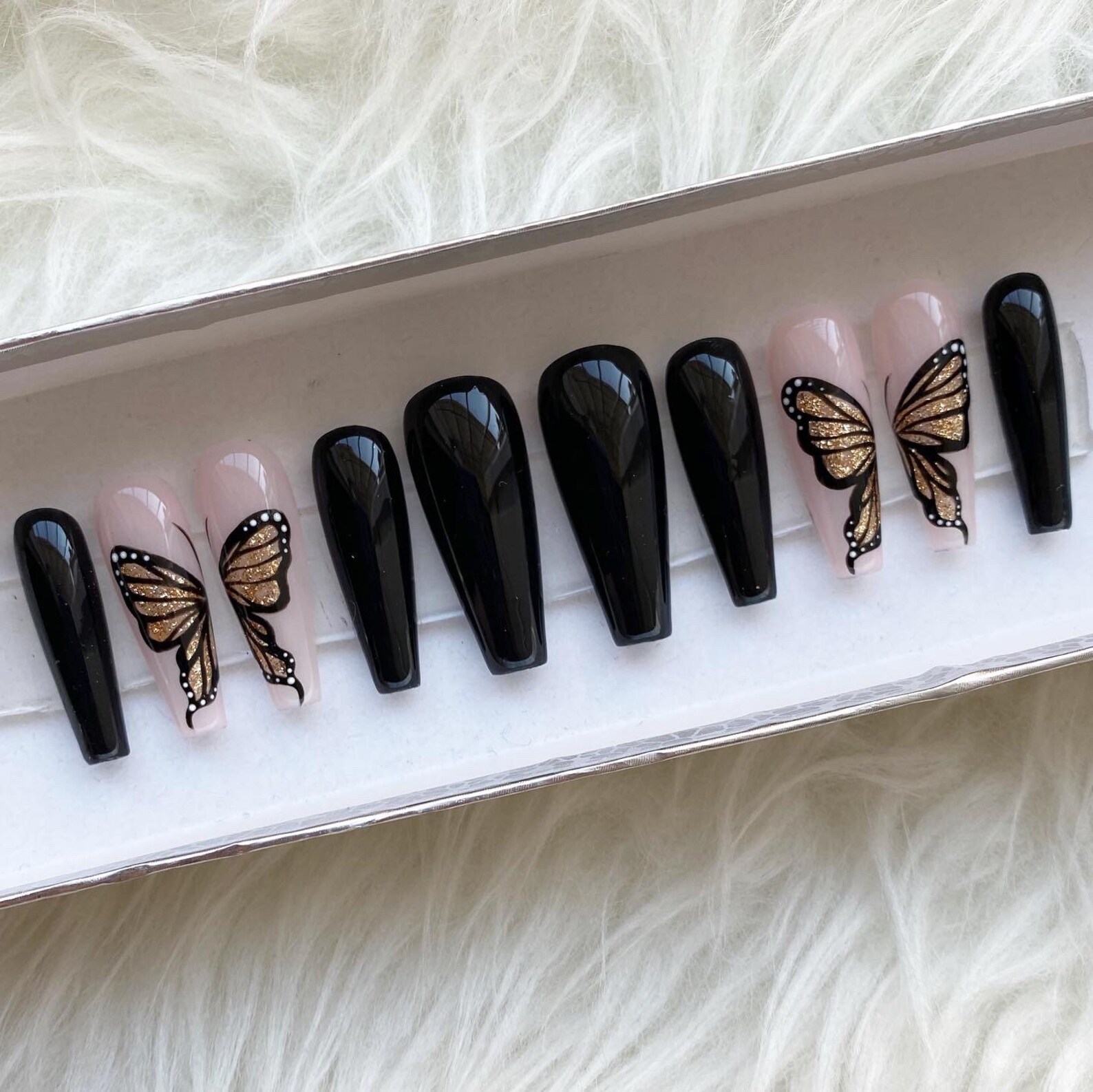 If you prefer more chic, dark-themed nails, try Bunny Press On Nails! They make use of USA Gel polishes for their designs. Similar to the other stores, you can choose the size and shape of your nail sets.
Price: $42.04
Where to Buy: Bunny Press On Nails
15. The Nailest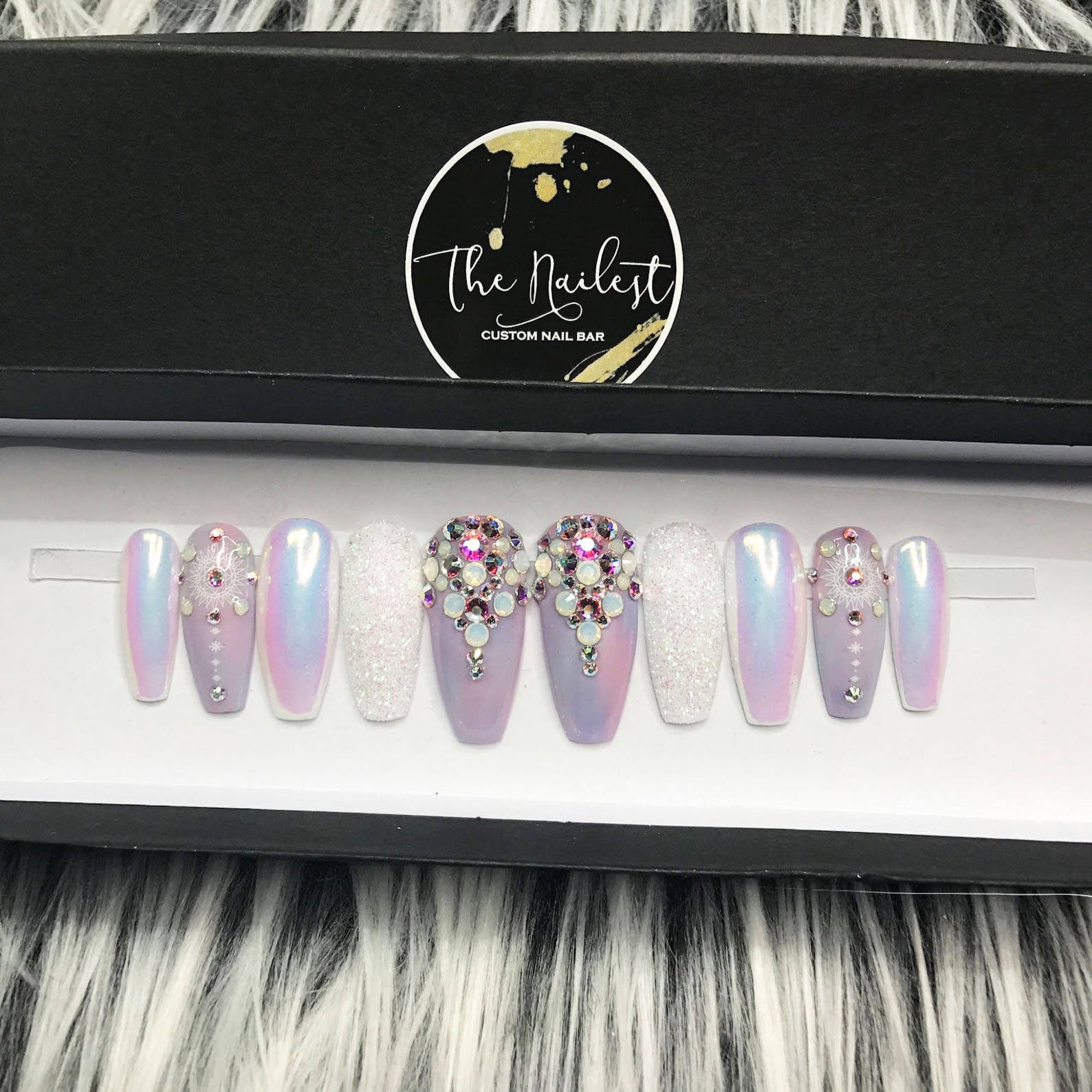 For when you feel like splurging a bit, try out the luxurious nails from The Nailest! Their iridescent nails are topped off with real Swarovski crystals for the ultimate glam look. The nails come in a portable storage box with a nail file and instructions for application and care.
Price: Starts at $60.37
Where to Buy: The Nailest